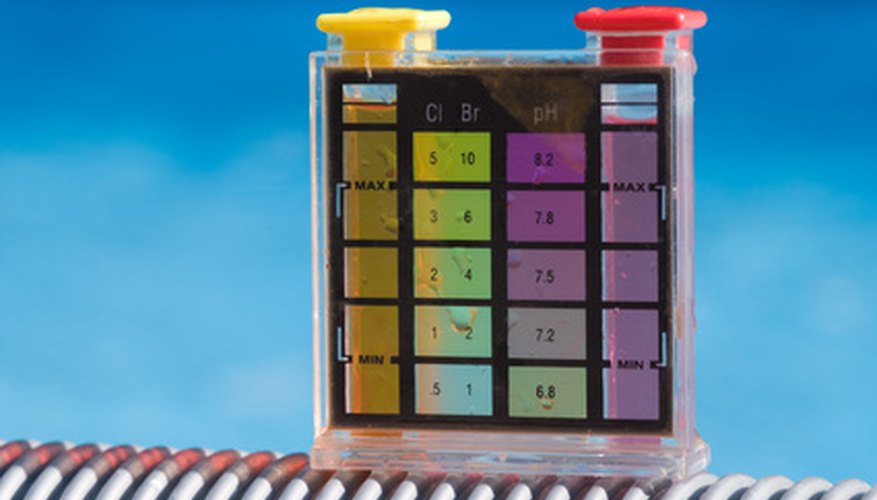 Maintain healthy pool water by regularly testing your pool's variables and then adding chemicals when needed. Adding chemicals to your pool in the correct order ensures that the chemicals react properly. Proper reaction guarantees that you are not wasting your time and money. Several chemicals must be added to your pool weekly and monthly, while others are added on an as needed basis. These chemicals can become costly. You can save money on your chemicals by purchasing them online or by buying in bulk.
Step 1
Test the pH level of your pool water daily. Purchase a pH test kit from your local pool supply or home improvement store and follow the directions in the kit to complete the test. There also are electronic pool monitors that will test your pool water automatically. However, you still need to test your pool weekly to ensure that the electronic monitor is working properly. Always check pH level first. If proper pH levels are not maintained the chlorine will dissipate from your water faster, thus causing you to pay more to maintain your chlorine levels. The desired range for pH is 7.2 to 7.6. Raise or lower your pool's pH level by adding pH Up or Down. Add one cup at a time, allow your pool water to circulate for a few minutes and test again. Continue this process until the pH level is within the desired range.
Step 2
Measure the level of alkalinity in your pool with a test kit every time you test for pH. The pH test kit you purchased should also test for alkalinity. Follow the instructions found in your test kit. You will use the water left over from the pH test to check the alkalinity, so don't throw it out. Desired alkalinity levels range between 80 and 120 parts per million (PPM) for painted, fiberglass and vinyl pools. Raise alkalinity levels by adding sodium bicarbonate to your pool. Lower alkalinity levels by adding acid to your pool. Both of these items can be purchased at your local pool supply store. Follow the directions on the package of these products. Never add these products to your pool within 24 hours of adding liquid chlorine to your pool.
Step 3
Check your chlorine levels daily with the help of a chlorine test kit. Add liquid chlorine to your pool to raise the level of chlorine if the chlorine levels are low. If you have recently added sodium bicarbonate or acid to your pool, wait at least 24 hours before adding liquid chlorine. A total chlorine test should consist of free and combined chlorine levels. Lower chlorine levels by removing your pool chlorine dispensers and testing daily. The chlorine will disburse within a few days. Proper chlorine levels are maintained between 1.5 and 2 PPM.
Step 4
Check your pool's Total Dissolved Solids (TDS) weekly with a TDS test kit. Total Dissolved Solids are all the minerals and/or metals in the pool water. Minerals and metals will stain your pool when levels are too high. Purchase a TDS test kit online or through your local pool supply store. Follow the directions on the TDS test kit. You can also bring a few cups of pool water to your local pool supply store for TDS testing. This usually is a free service.
Step 5
Backwash your pool. Backwash means to remove the dirt and chemicals from your filter. Turn off your pump. Switch the pump valve to "backwash." Turn on your pump and run it for a few minutes. If your valve has an eyeglass piece, watch for the water in the eyeglass to become clear. You must replace the diatomaceous earth (DE) in your filter if you have a DE filter. Purchase DE and a half pound measuring cup from a pool supply store. Follow the directions on the box to ensure you add the correct amount based on your pool size. Use the measuring cup to measure and dump the DE directly into the skimmer that is closest to the filter.
Step 6
Purchase flocculent from your local pool supply store and add it to your pool, following the instructions on the packaging. Add 1/4-gallon of flocculent for every 6,500 gallons of pool water. Flocculent will attach itself to minerals and metals and pull them to the bottom of your pool. Vacuum your pool to remove these minerals and metals.
Step 7
Remove and replace half of the water in your pool yearly to ensure your pool's water does not become hazy and your pool walls do not build up scale due to high TDS levels. Rent or purchase a submersible pump with a rubber bottom from your local home repair store. Attach the hose that comes with it to the pump's water output and place the other end of the hose as far into your yard and away from your pool as possible. Plug in the pump to turn it on. Pump the water out until the pool is half full. Refill the pool.