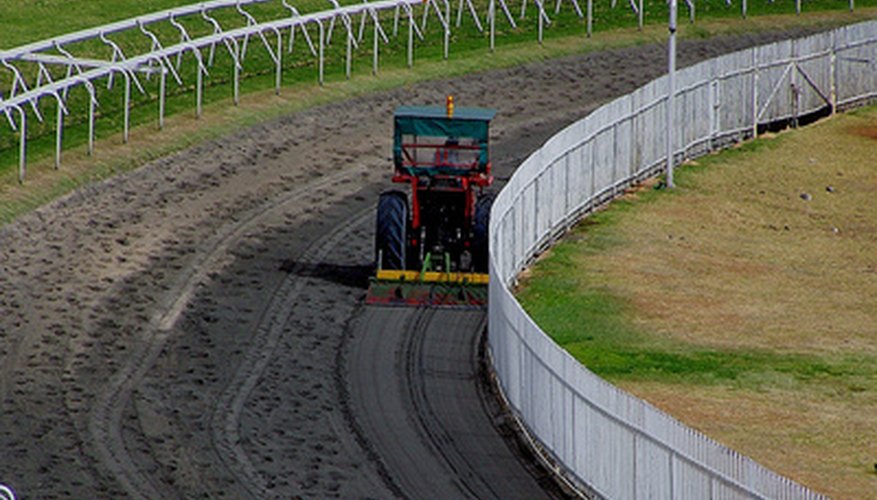 Grading the land is a term used to describe the procedure of levelling a soil base, whether it is uneven or has a simple slope. This is used for construction projects, such as preparation work for roads or landscaping. Grading is a necessary task, as uneven land can create irrigation issues or gardening problems due to sun exposure. Grading can be a complicated task depending on the soil surface being graded. While a simple garden tractor may do for some grading projects, others may require a bulldozer.
Even Land
Step 1
Attach a smooth-front blade attachment to a garden tractor. This will smooth out any large clumps of soil and make a smooth surface.
Step 2
Start the garden tractor and lower the blade to just above the ground. Start driving slowly, dragging the blade on top of the soil. If the land is even, these steps may be the only ones required for grading the land.
Step 3
Attach a box scraper to the back of the garden tractor for precision grading. It is acceptable if the scraper is larger than the tractor's width. Start pulling the box scraper over the land, creating a smooth and even soil surface. The precision grading digs up more soil to smooth and level the land, rather than just smoothing out clumps of soil already on the surface.
Step 4
Plant grass or plants, or lay gravel on the graded land.
Uneven Land
Step 1
Water the ground that needs to be graded, or do the grading after a heavy rainfall.
Step 2
Use a bulldozer to remove any excess dirt, grass or weeds that are layered on top of the soil or yard that needs to be graded. If the uneven land is a high slope, consider selling the soil to landscape developers for some extra profit. Having extra soil on any given property may interfere with proper water drainage systems. Continue removing dirt and soil until the uneven land has been flattened out.
Step 3
Remove the extra soil to create an even land surface. Use a garden tractor and a box scraper to level the soil surface after grading the uneven land. A box scraper will also help loosen up the soil that will have become compacted during the bulldozer's drives on the soil.
Step 4
Monitor the newly graded soil during the rainy periods. Since the uneven land has become graded and even, some water drainage issues may surface. If this occurs, install other drainage options such as trenches or gravel-filled post holes.