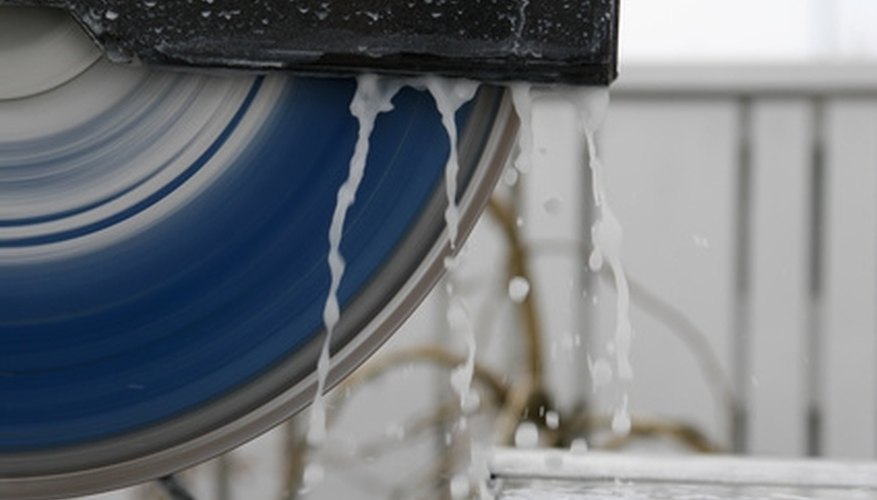 Concrete is used extensively in home construction and sometimes it needs to be cut. The most common types of concrete cutting are wall-sawing, core-drilling and slab-sawing. These types of concrete cutting often produce a smooth cut finish. To achieve these smooth cuts in the hard surface, special water saws are used with diamond-tipped blades. The water keeps the blades cool while the blades cut through the concrete surface.
Mount aluminum tracks to the wall to guide the saw. Follow the mounting instructions given for the specific saw for best safety. Choose a big, circular wet saw designed for concrete cutting. The saw should have diamond-tipped blades. This type of saw makes the most precise cuts and often the deepest cuts.
Shoot two-by-four boards into the concrete wall to use as a guide. Use a lightweight, hydraulic, hand-held ring saw with an eccentric drive. Use the two-by-fours to guide the saw. The eccentric drive of this type of saw will allow you to cut a 10-inch-thick wall with a 14-inch blade.
Score the corners with a small 4-inch diameter electric cutoff saw. This will allow you to go deep into the corner where the bigger saws and blades cannot reach. Chip out the rest of the concrete with a small pneumatic chisel.
Drill holes in concrete with a heavy-duty variable-speed drill designed to be used wet. Use a diamond-tipped bit and allow the water to keep the bit cool while you are cutting.