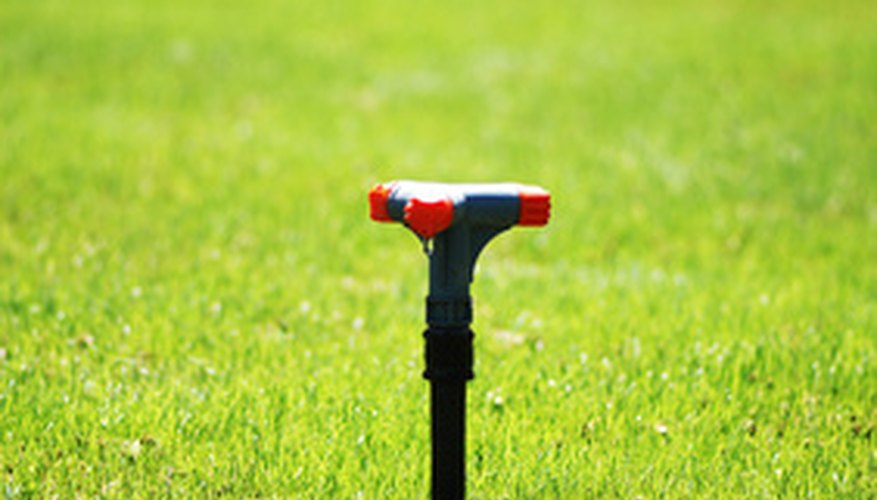 Using a lawn-care service is a time-saving and convenient way to have a lawn that's the envy of your neighborhood. Unfortunately, these services can also take a heavy toll on your bank account. An annual maintenance routine for your Georgia lawn can achieve the same results at a fraction of the cost. The key is following the routine to make sure problems don't get out of hand. The result will be a thick, healthy, weed-free lawn.
Conduct a soil test. Dig 6-inch-deep plugs of soil from seven or eight locations around your lawn. Mix samples in a bucket and provide a soil sample according to the test directions. Soil tests are available through the Georgia Cooperative Extension Service office in your county and at most home and garden centers. Red clay is the predominate soil type in Georgia, and the addition of amendments to help it drain is often recommended.
Apply lime and fertilizer in late February or early March, based on soil test results. Most lawn grasses like a pH of about 6.5. Apply fertilizer again in October in the northern part of the state and November in the southern portion.
Aerate once a year. Aerators are available for rent at home and garden centers. They remove plugs of soil to help eliminate compaction so water and grass roots can more easily penetrate the soil. Late February or early March is a good time to aerate the soil in Georgia.
In February or March, Southern Living garden expert Steve Bender recommends applying a pre-emergence weed preventer, such as Vigoro Ultra Turf Pre-emergence Crabgrass and Weed Control or Scotts Halts Crabgrass Preventer. These products create a barrier on the soil surface to prevent weeds from sprouting.
Mow the grass during the Georgia growing season, April through October. Mow frequently so that no more than one-fourth to one-third of the grass height is removed at one time. Mowing height depends on grass variety: for Bermuda, mow 1 to 2 inches; for hybrid Bermuda and Zoysia, 0.5 to 1.5 inches; for Centipede, 1 to 1.5 inches; and for St. Augustine, 2 to 3 inches.
Watch grass for signs of wilting during periods of low rainfall. Rainfall in the state can vary greatly from year to year. Irrigate grass only after it wilts, or when blades begin to roll up. Water early in the morning until the soil is soaked to a depth of 6 to 8 inches. Watering too frequently will promote shallow roots.
Mow dead grass low in late February or early March to help remove thatch and promote warming of the soil. Bag the clippings, unless you have a mulching mower.