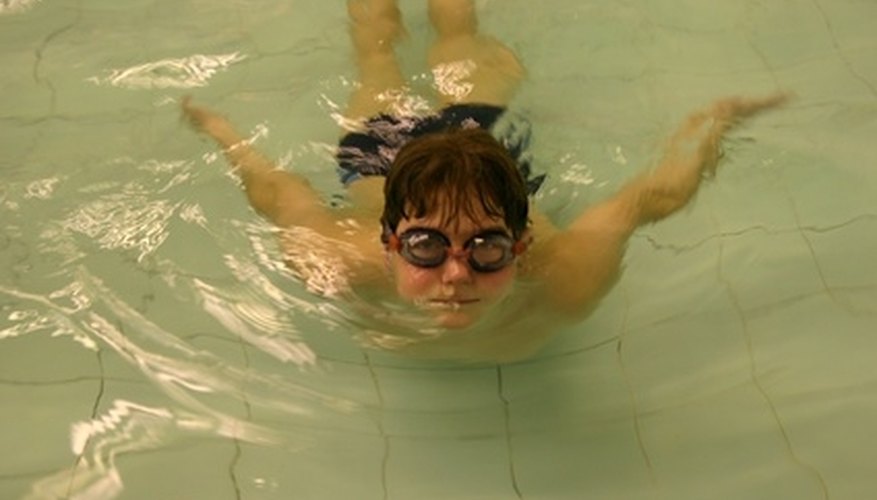 A leaky pool means a watery mess and constant refilling of the pool with cold water. Repairing a leak in your pool will allow the same water to remain in the pool so it can heat up throughout out the summer, making for a more comfortable place to swim. There are a few types of products to choose from when repairing a hole in your pool.
Use a flexible rubber-based sealant, such as Nitrile Rubber based sealant, that provides a strong adhesive bond to most swimming pool materials. A light coat of this flexible sealer will skin over a leak within minutes of application; thicker coats may take hours. Rubber-based sealant can be used to seal vinyl pool leaks with or without a patch, seal between pool liners face plates or fittings, or seal small cracks in gunite or plaster. It's available in white or vinyl blue.
Use two-part hand-moldable epoxy putty. It cures to a smooth white finish between 40 and 60 minutes from application. Two-part hand-moldable epoxy putty blends well to maintain a presentable look and can be used to fill and repair cracks in plaster, gunite, fiberglass or acrylic. It's available in white, tan, grey or black.
Use hand moldable rubber gap filler. It can be applied underwater without a caulk gun. Hand moldable rubber gap filler retains a flexible, tacky consistency so it's well suited for fixing many kinds of pool leaks. You can pack it around the light cable to seal a leaking light conduit, replace rubber gaskets with or without removing the fitting, and fill or seal cracks, voids or gaps.
Use a vinyl patch kit. This kit can be used for repairs above or below water. It uses a vinyl adhesive that holds a vinyl patch in place over the leak.