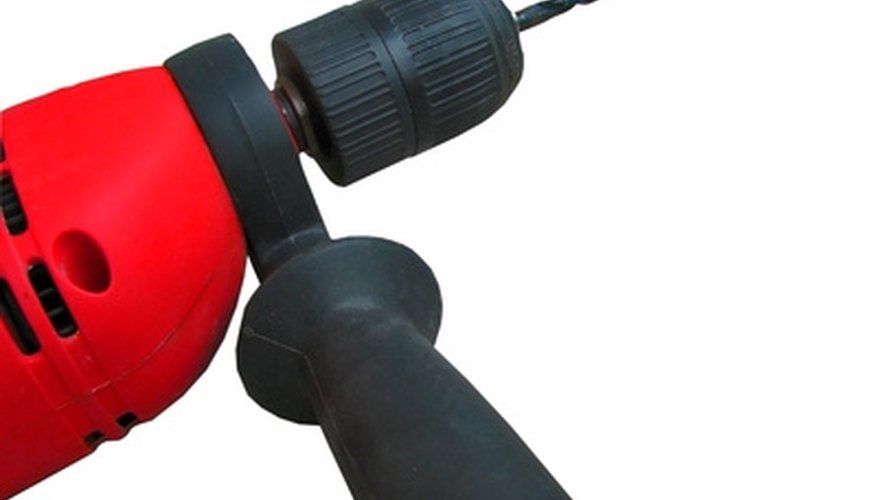 Drilling deep holes into concrete can present a serious challenge if the slab is steel reinforced. In many cases the worker has no choice other than to abandon the attempt and to relocate the hole. However, domestic concrete basements and sub floors are not usually reinforced, so the chances of a successful first attempt are good. Drilling a hole in a precise location can be tricky because the drill bit has a tendency to wander when the hole is first started. This problem can be overcome by starting the hole with an easy to control small diameter pilot drill.
Mark the desired hole location on the concrete floor with a fine felt pen.
Measure the desired hole depth on a new long shank 5/32-inch masonry drill bit with a steel ruler. Mark the depth by wrapping a piece of masking tape around the drill bit shank. Clamp the bit into the chuck of a two-speed hammer drill. Set the drill to the low speed and non-hammering settings by twisting their respective levers on the drill body. This setting will help to start the hole accurately.
Position the point of the drill on the pen mark. Hold the drill vertically. Press the trigger in a series of brief burst until the hole is started in the desired position. If the drill starts wandering, tilt the top of the drill in the opposite direction to bring the bit back to the center point. Stop when you have penetrated about 1/8-inch.
Set the drill to the high-speed position and flip the lever on the side of the drill into the hammer setting. Place the drill bit in the hole and hold the drill in as vertical a position as possible. Do not apply any added pressure to the drill. Press the trigger to drill the pilot hole. Remove the bit after every inch of penetration with the drill still running to clear the flutes of debris and too cool the tungsten carbide tip. Blow the hole clear with an aerosol can of compressed air before resuming. Withdraw the drill bit when you reach the desired depth and clear the hole again with compressed air.
Mark the hole depth on a fresh sharp masonry drill two sizes up, and clamp it into the chuck. Repeat Step 4. Continue the same drilling process with progressively larger drill bits until you reach the correct hole diameter.