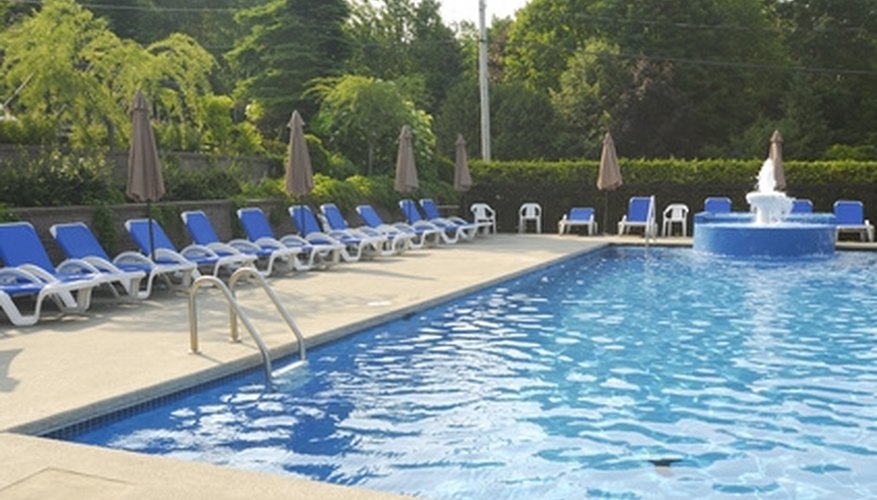 Algae thrives in warm water that receives a large supply of sunlight. It causes cloudy pool water that eventually turns green or yellow. Although algae is not harmful to swimmers, it is time-consuming and expensive to control after growth starts. Preventing algae growth is more cost effective than having to kill it after growth starts. Algae is controlled by having the property pH level and using chemicals, such as shock and algaecide, to control algae and prevent further growth. Shock, known as potassium monopersulphate, refers to a non--chlorine chemical treatment for pools according to poolinfo.com.
Brush the sides and bottom of the pool to disrupt and remove the algae. Attach a long handle to the brush to reach the center of the pool.
Check the pH in the pool using a test strip. Raise or lower the pH until is reaches a level as close to 7.2 as possible. This is the lower end of the suggest pH.
Use an algaecide to treat the algae in the pool. Follow the manufacturer's recommended application for your pool size.
Add the shock to your pool after preparing the water by stabilizing the pH and treating the algae with algaecide. Use two pounds of shock per 10,000 gallons of water. For non-chlorine shock treatments, allow the pool filter to run for about 15 minutes before swimming.
Vacuum the pool to remove any debris or remaining algae. If necessary, brush the sides again. Use shock after a heavy rain or once a week to prevent future algae formation. Follow the manufactures suggestion when adding shock for water maintenance and algae prevention.