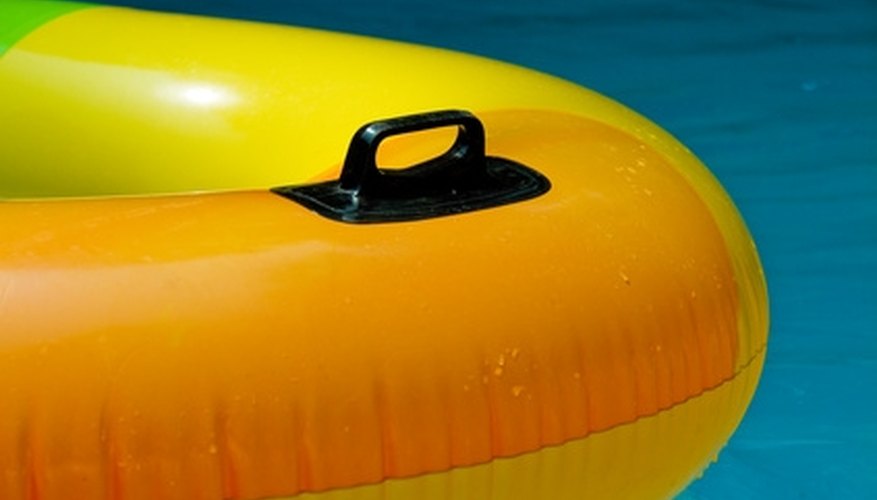 Leaks are common occurrences with above ground swimming pools. They spring up any time of the year and have several different causes. Leaking pools can cause problems with both the structure of the pool and the areas surrounding your above ground unit. Luckily, above ground pools are easier to fix than most other pool types, since everything is easier to access. Once you locate the leak, repair is generally quick and easy.
Determine the exact point where the pool is leaking. Either tears in the pool liner or cracks in the wall cause most leaks. Walk around the pool and look for any large wet areas. If the water is around the outside of the pool on the ground, the liner floor may have ripped. Rocks protruding through the liner or liner age can cause tears.
Check the pool hoses, pump and filter. Ensure both ends of the hose are tightly connected and no water is dripping from them. Use a screwdriver to tighten the hose clamps if you find a leak. Pools with PVC piping may require the entire pipe to be replaced or sealed. Use a caulking compound to fill any small holes. Investigate the area around the pump while it is on to spot any leaks. Make sure the pool backwash line is fully closed so no water is unintentionally leaking out.
Go underwater to determine if the liner has been cut. Make sure there is someone near you before entering the water. If the leak is large enough, air bubbles may be visible. Search around the pool's bottom and any ladders to see if the liner has torn. Place a few drops of red food coloring in the water to determine if a leak is present. The colored water will move toward any openings and show a leak.
Repair the leak. Small leaks can be repaired with a vinyl pool repair kit, available at most home improvement stores and pool suppliers. Cut the piece of repair vinyl to fit over the leak and place vinyl cement, included in the kit, on the back of the patch. Place the patch over the vinyl tear and smooth out any air bubbles.
Allow the cement to dry and make sure the area is no longer leaking. Patch kits can fix most small to moderate leaks and cracks. Professionals should fix larger pool abrasions. If this is not an option, the entire pool may need to be replaced.