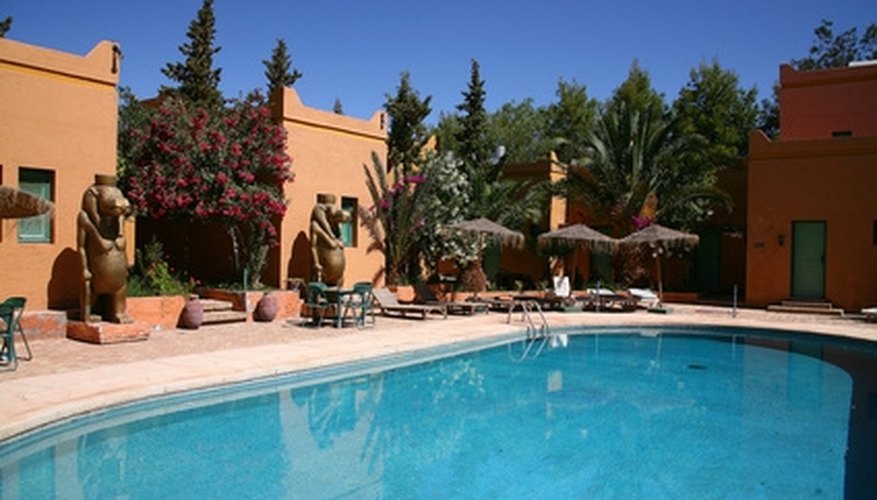 As with all types of swimming pools, fiberglass pools require proper chemical and cleaning maintenance. Calcium hardness is an important component in swimming pool water, and should be tested weekly. If water is too hard, calcium deposits will form lines on the fiberglass pool's finish. The proper level for water hardness in a fiberglass pool is 300 to 350 parts per million (ppm). Hard water lines should be cleaned from fiberglass pools immediately, as the lines will become more difficult to remove overtime. Acidic cleaning solutions are effective at removing hard water lines from fiberglass pools.
Scrub the hard water lines with a soft bristled pool brush. Stiff bristled brushes and other abrasive cleaning materials should not be used on fiberglass pools.
Dampen a clean cloth with white vinegar. White vinegar is a weak acid used to remove hard water deposits from fiberglass surfaces.
Rub the damp cloth back and forth over the hard water lines, until the lines are completely removed from the pool. You may need to remoisten the cloth with more white vinegar while cleaning.
Dampen another clean cloth with water. Wipe the fiberglass pool with the cloth to rinse away the vinegar.
Inspect the pool for remaining hard water lines. If the vinegar solution was not strong enough to remove the lines, apply a phosphoric acid cleaning solution to the pool surface, according to the manufacturer's directions.