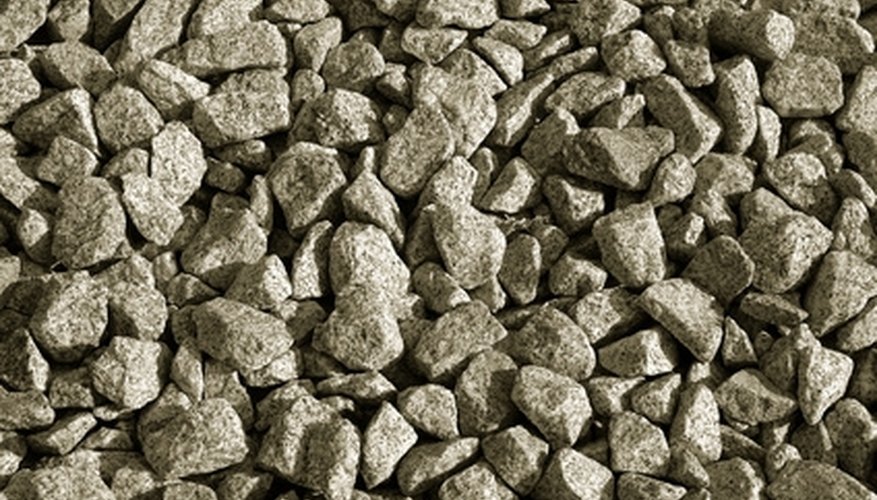 A sturdy gravel driveway takes preparation. Failing to properly prepare a gravel driveway often results in low spots that require frequent maintenance. Investing in the proper preparations can save on maintenance costs in the long run.
Excavate the driveway site. Remove a 10-inch depth from the area, keeping the bottom of the excavated area level to the natural lay of the land. Follow the slope of the land and use a backhoe to simplify the excavation process.
Rake the area by hand, removing large rocks, roots and twigs. Place these items in a wheelbarrow for proper disposal.
Roll a mechanical tamper over the area to compact the soil. Continue tamping the ground until the soil feels completely hardened. No soft or spongy areas should exist.
Apply a layer of large, coarse gravel or landscape rock to the bottom of the excavated area. Make this layer about 3 inches thick. Run the mechanical tamper over this layer to compact the stone.
Apply another 3-inch layer of the large, coarse gravel or landscape rock to the area. Repeat the tamping process to compact the stone.
Apply a 3-inch layer of medium-size gravel over the 6-inch layer of large gravel. Compact the stone again with the soil tamper.
Place edging pavers along the outside edge of the excavated site. This helps prevent the gravel from spreading out of the driveway.
Apply a course of fine gravel to the rest of the driveway area. Fill up the area to the top of the edging pavers. Build up the middle of the gravel driveway, forming a slight dome shape that encourages water to run off the sides of the driveway.