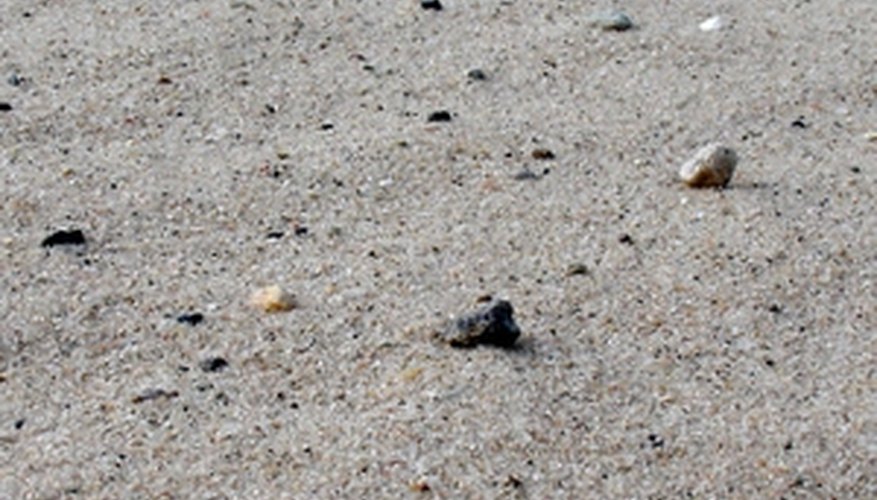 Sand placed underneath a swimming pool liner creates a level surface for the pool and prevents sharp objects from piercing the pool liner. A damaged pool liner results in expensive and time-consuming repairs, maybe even replacement. Installing the sand for a swimming pool liner takes a few days to ensure a perfectly level and properly compacted foundation for the pool. Although it requires a lengthy process, a properly installed sand foundation can extend the life of your pool and pool liner.
Excavate the pool site by first removing the sod layer on top of the ground. Check the levelness of the area and remove additional soil in the site where necessary to get the area as close to level as possible. If possible, excavate an area a few feet larger than the pool diameter to ensure adequate space.
Comb over the excavated site carefully and pluck out any rocks, twigs and roots sticking up in the space. Grab as many pieces as you can and cart away from the area in a bucket.
Fill the entire excavated pool site with a 2-inch layer of masonry sand. If you choose to use free sand found on your property, you must meticulously remove rocks and debris from the sand that may cause holes or tears in the swimming pool liner. Though costly, investing in prefiltered masonry sand saves you money on repairing or replacing pool liners later. Dump the sand onto the site and use the back of a rake to smooth the sand throughout.
Apply water to the sand using a garden hose, and use the soil tamper to compact the sand in the pool site. Pound the broad, flat end of the soil tamper against the sand to produce a flat, compacted surface. Repeat this pounding all over the pool site. Check the levelness of the site after tamping and apply more sand in low areas. Allow the sand to dry and repeat this step again to further compact and level the site.
Install the walls of the swimming pool as directed by the installation instructions included with your swimming pool. With the walls in place, apply more sand along the edges of the pool walls and smooth into a wedge or sloped shape that extends 6 to 8 inches up the inside of the pool walls. These sand formations prevent air from lying between the pool walls and liners along the bottom edge of the walls; if you leave this air pocket you create a higher risk for damaging the pool liner.