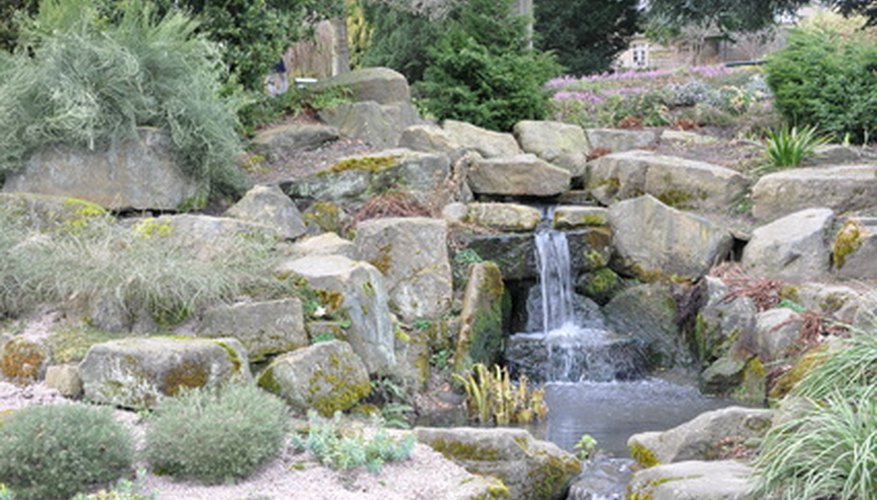 The soothing sounds of water trickling over rocks seduces many gardeners into constructing their own backyard waterfalls. Waterfalls can also add valuable oxygen to pond water by bubbling it over rocks. However, if you install an oversize waterfall it might cause too much noise and overwhelm your pond. Too small a waterfall may not give your pond the aeration and water movement it needs to thrive. Careful waterfall design and planning helps ensure that you create a waterfall that suits your pond dimensions.
Work out what style of waterfall you want and how high you want the waterfall. Calculate rough dimensions by working out preferred width and height, then at least doubling that figure to get the length, according to Langston University. Otherwise your waterfall may be too steep. Increase the width required if you want to add plants along the side of the waterfall. Make sure your backyard can accommodate the dimensions.
Calculate your total pond size. Don't create a waterfall that's too big for your pond. If the waterfall is too large and creates too much water turbulence it could disturb plant and fish life, according to the World of Water website. Aim for a waterfall around five to eight feet in length from the edge of the pond for general garden ponds, according to the Aquatic Community site.
Decide if you're going to buy a ready-made waterfall kit or create your own. Buy enough thick pond liner to create a flowing, multi-level waterfall. Measure the length of the waterfall with a measuring tape and add two feet. Measure the widest part of the waterfall and add three feet, then multiply the overall length and width figures to get required liner dimensions, according to the University of California, Davis.
Select an appropriate waterfall pump. Find a pump that will circulate your entire pond water volume plus waterfall "head" height every two hours. For example, if your pond capacity is 2000-gallons, and your waterfall is three feet tall, you need a pump with capacity of 1000-gallons per hour and three-foot head, according to pump engineering specialists Mathews.
Plan your electrical requirements. If you haven't already checked local pond regulations and pipe and cable maps when installing your pond, contact your local government department for more information. Request a utilities mark-out if digging a deep hole. This shows any any pipes and electrical wires. Check with an electrician before installing any wiring near your waterfall.
Choose some waterfall rocks and boulders in a range of sizes. Use a mix of flat and round rocks. Adjust these later when the water is running for best effect. Avoid sharp rocks which could pierce the lining. Select border plants and shrubs from a garden center to line the waterfall.