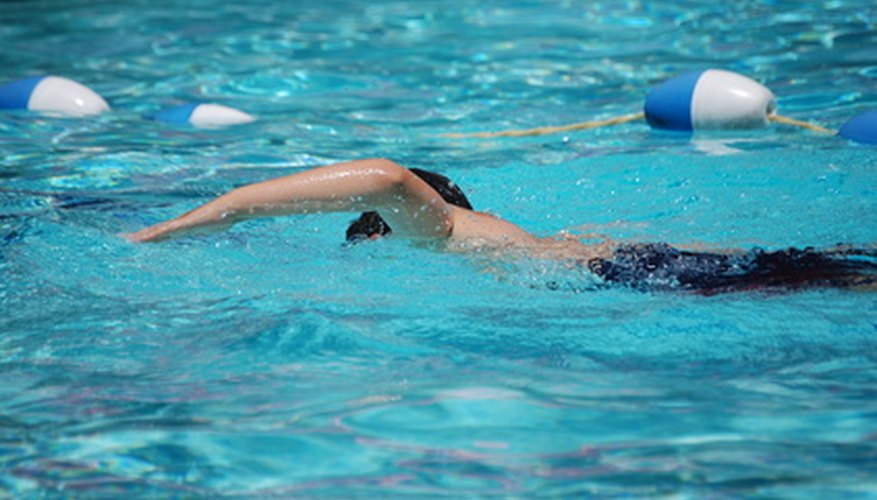 When summer approaches, many homeowners prepare their pools for a season of swimming. Unlike concrete pools, which are porous and can harbor algae, fiberglass pools are smooth, nonporous and easy to clean and maintain. Yet, over time, fiberglass pools can become stained. High levels of metal in the water can quickly cause iron or copper stains to develop, and rust and general dirt stains can also form. With a few household materials and elbow grease, you can remove stains from your fiberglass pool in no time.
Rust or Iron Stains
Step 1
Rub the rust stain with a chlorine tablet.
Step 2
Brush the stain with a soft-bristled brush until the tablet and rust stain are gone.
Step 3
Add ascorbic acid powder to the pool filter to remove several rust stains on your fiberglass pool. Follow the directions on the label.
Brown Ring Stains
Step 1
Add oxalic acid to your pool's water to help eliminate brown ring stains on your pool. Follow the directions on the label.
Step 2
Rub the brown ring stains with a magic cleaning eraser until the stains are gone.
Step 3
Clean the area with a sponge saturated in warm, soapy water.
Stains at the Water Line
Step 1
Apply a mild pool cleaner to a sponge.
Step 2
Rub stains at the pool's water line with the sponge.
Step 3
Scrub stubborn stains with a plastic scrubber.
Step 4
Wipe stains away with a damp cloth.