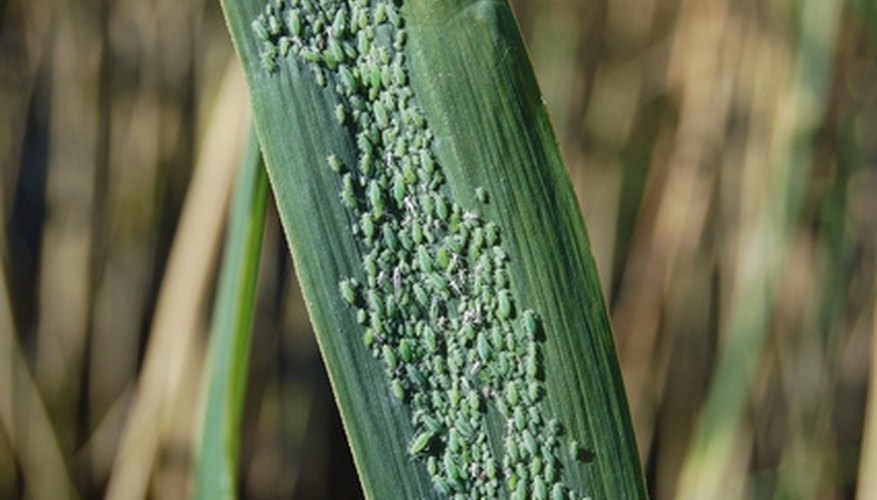 Insecticidal soap has been used by home gardeners for generations as an alternative to chemical pesticides. It is 40 percent to 50 percent effective in killing soft-bodied insects such as aphids, thrips, whiteflies, spider mites and immature leaf hoppers. Hard-bodied insects, including most beneficial insects, are not harmed by insecticidal soap. It has no residual insecticidal value and must come into contact with an insect to kill it. Homemade insecticidal soap is safe for use on most plants in the vegetable garden, though it may cause harm to some varieties of tomatoes and other hairy leaf plants.
Purchase a dish-washing liquid that contains no detergent or de-greaser. Do not use laundry detergent or automatic dishwasher soap.
Mix 1 tsp. dish-washing liquid with one pint of water in a jar and shake or stir to mix. Let it stand for 15 minutes. If the solution remains milky the water is pure enough to make the soap. If scum forms on the top, the mineral content is too high and will reduce the effectiveness of the insecticidal soap. Add a water softener to water with a high mineral content before mixing the insecticide or use purified water.
Combine 5 tbsp. dish-washing liquid with one gallon of pure water, or water that has been treated with a softener. Stir to combine.
Pour the insecticidal soap into a labeled gallon jug and seal. Use this to fill spray bottles as needed for application in the garden. Spray bottles should also be labeled for safety purposes.