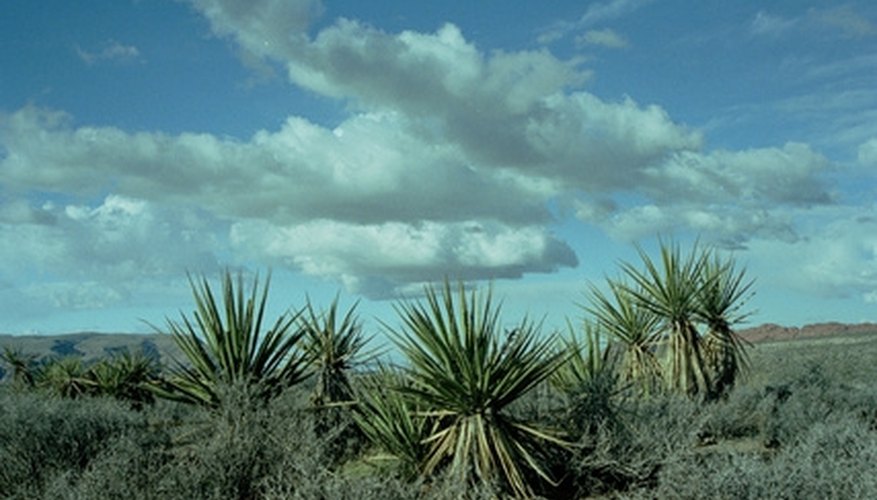 Yucca plants are versitile plants that can live outside in the full sun and inside near a south-facing window. When yucca plants are in the home, they require less water than in the outdoors. Proper drainage must be provided for these plants in order to prevent root rot or other fungal infections. While yucca plants are generally low-maintenance when used outside, it is important to monitor your plant during dry weather to ensure it is getting enough moisture.
Indoor Yucca
Fill a saucer with a one-inch layer of gravel. Place the container holding the yucca plant on the saucer. The container should have draining holes that are at least 1/2 inch in diameter.
Check to see if the yucca needs watering by feeling the top few inches of soil. The top soil should be 3/4 of the way dry. Water your yucca by lifting it over a sink.
Pour water at the base of the plant. Stop when water drains from the draining holes. Replace the yucca on the saucer.
Outdoor Yucca
Press your hand next to the base of the yucca plant and into the first two inches of topsoil. The topsoil should be 1/3 to 1/4 of the way dry before watering.
Pour one inch of water around the dripline of the plant. The dripline is the area underneath its outer branches. One inch of water is a half gallon per square foot of soil. Avoid splashing water on the yucca's base.
Spread six inches of mulch underneath the plant. Keep the mulch away from the base of the yucca.
Give the plant more water in the late fall. Moist soil is warmer than dry soil. Increase the amount to watering twice a week until the temperature dips. Reduce watering in the winter to allow the plant to go into dormancy.