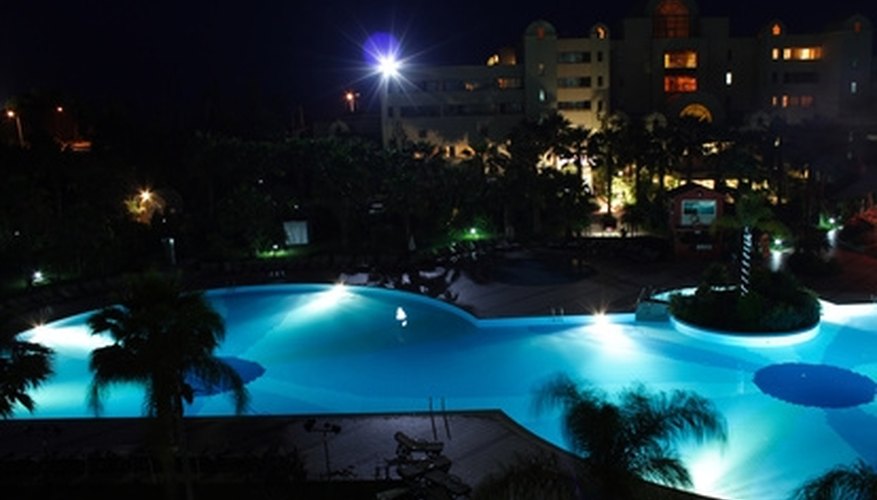 Swimming pools feature an assortment of lighting types and styles to add the illusion of color to pool water. Color lighting enhances nighttime swimming by adding a hint of luxury to your backyard, and setting the mood on special occasions. While some products simply change the color to blue or red, others offer colorful light shows using an array of different colors. Choose a color to make those late night pool parties more festive, induce romance while poolside with that special someone or experience tranquility during a late night swim.
Install a multicolor LED light. This self-contained light, which uses light emitting diodes to light the pool, replaces your existing pool lightbulb. It features an Edison base that simply screws into your existing light fixture. Advanced LED lights offer five to seven solid colors, multiple color blends and light shows--even the ability to synchronize with your backyard lighting! This energy efficient technology, which lasts for 100,000 hours, consumes up to 79 percent less energy when compared to traditional pool lighting and has no moving parts making it noise and maintenance free.
Install fiber optic lighting underwater or around the perimeter of your pool. Fiber optics transmit light through high-quality plastic fibers. An optional color wheel allows you to change the color of the light transmitted through the cables. Fiber optic lights have no electricity running through the cables, making them safe to use in water. Add several cables underwater to softly illuminate with color, or line the perimeter above water to create a dazzling, starry effect.
Install a color lens cover to add some decorative color to your pool without the expense of installing new equipment. This method allows you to add color (blue, red, green, or amber) at a moment's notice. Lens covers, made of a durable plastic, simply snap onto a traditional pool light and require no fixture removal or assembly.