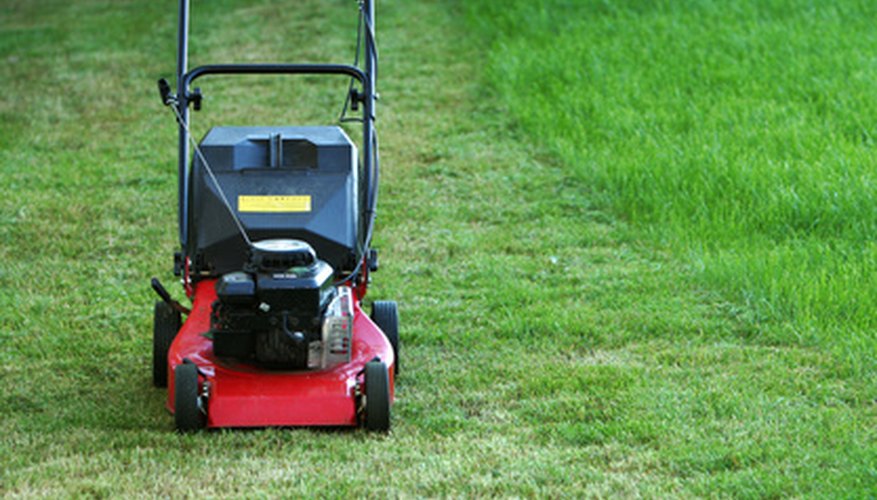 Few things are more aggravating than planning to mow your lawn on a summer afternoon only to have problems starting your mower. But before you abandon your lawn care plans, try troubleshooting the lawnmower–especially the carburetor–and you may solve your difficulties.
Clean the air filter on the carburetor. Remove the breather commonly held in place with clips or a single screw in the middle. Inspect the air filter for dirt and debris. If the filter is foam, wash it thoroughly with soapy water, rinse and dry before replacing. If the filter is paper, blow it clean with an air compressor or canned air.
Inspect the fuel tank for fresh gasoline. Although this is not the carburetor, the gas feeds into the carburetor. If the gas is old it may have developed varnish and this can foul a carburetor.
Drain old gas from the tank and replace with fresh gasoline. Add a fuel system cleaner designed for mowers, start the mower and let it run for several minutes before operating.
Locate the small air adjustment screw located on the side of the carburetor. Turn the screw completely to the right with a blade screw driver. Turn the screw back to the left with two turns. Attempt to start the mower and pay close attention to the sound of the engine.
Turn the air adjustment screw slightly to the left then right while attempting to start the engine. Continue adjusting the air flow until you have the proper mix of air dialed in.
Check for sufficient fuel entering the carburetor with the breather removed. Open the throttle completely and try to start the mower. Watch for fuel entering the carburetor. If fuel is not visible or only a small amount can be seen, then the fuel line may be clogged.
Replace the fuel line by releasing the clamps holding it in place at the carburetor and fuel tank. The clips may be spring tension or screw type. Obtain a suitable replacement line from a mower parts store. Install the fuel line and make sure all connections are securely tightened.