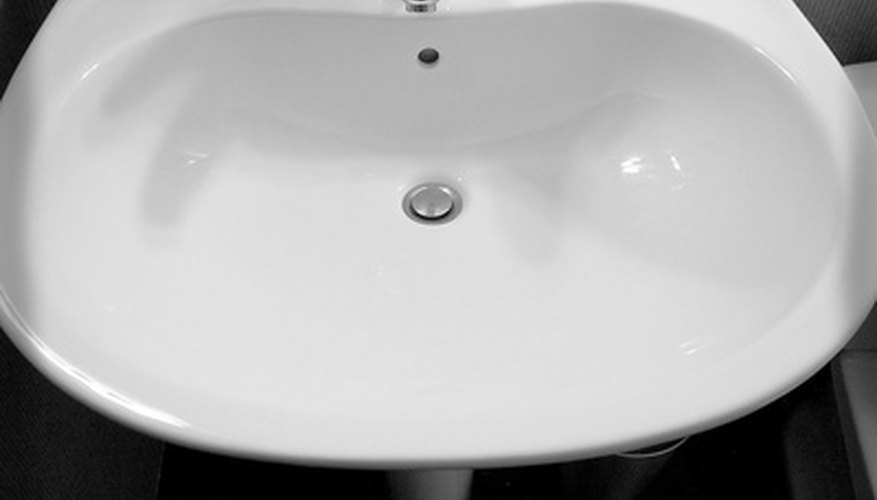 Lightweight concrete molds are used to cast lightweight concrete. They are typically crafted from rubber compounds which are store bought materials designed specifically for the purpose of mold making. This compound hardens and dries around a model (the object that the mold is created from) and is then removed. From this mold many castings can be made. It is an easy way create your own statues, concrete pavers or anything in-between.
Pour mold-making material, used for creating concrete molds, over your model. Be sure the mold material completely covers the object and forms a skin around it. In this case, you will use a simple object as your model, such as a sink. However, just about any object can be used for this purpose.
Allow the mold-making material to dry completely, until it forms a hard but rubbery shell. Peel the mold off the sink gently, so that it comes off in one piece.
Carve out a blocking shape (a backer for the rubber mold) into blocks of hobby foam. Use a razor to cut a general shape into the foam which matches the contours and dimensions of the model. Use the rubber mold as a guide and insert it into the carved out shape, once the general shape is cut into the foam. Shave off additional parts of the foam until the blocking shape supports your mold.
Insert the rubber mold into the blocking foam. The rubber mold must sit perfectly inside the foam. Press on the edges to ensure each side of the mold is supported by the foam.
Things You Will Need
Model

Concrete rubber mold compound (made by Polytek or Smooth-on)

Foam blocks

Knife
Tips
It is important to note that you should brush the rubber mold-making compound onto your model using a paint brush.

Reinforce the foam with plywood or metal sheeting as necessary.