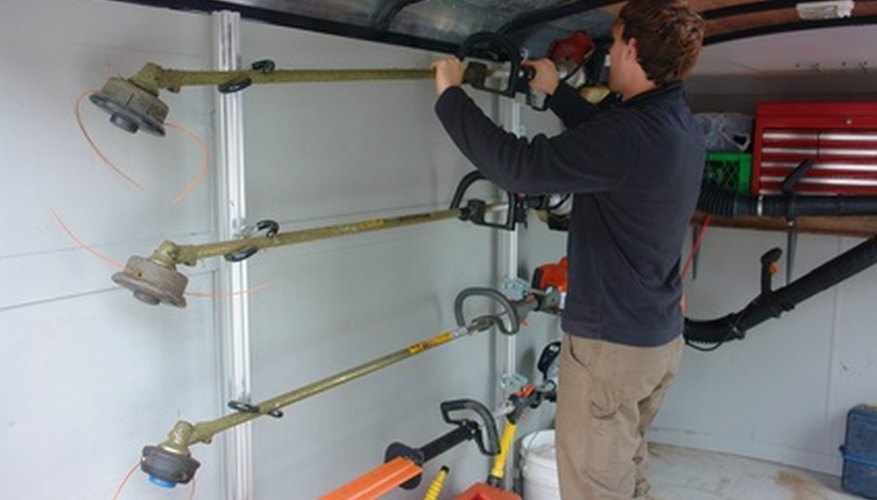 The carburetor on most small engine hedge trimmers has a butterfly valve with an internal diaphragm. These carburetors have three basic sections: the mixing section, the metering section and inlet/outlet valves. These carburetors can get dirty and gummed up quickly if the trimmer is used improperly. They should be cleaned and serviced on a regular basis, as they get older. Take extreme care when disassembling and reassembling the carburetor, as they can be ruined very easily.
Remove the cylinder cover and the air filter from the engine. Unscrew the choke cover plate's screws.Remove the air filter's mounting plate and the carburetor. Disconnect the throttle cable from the carburetor.
Unscrew the screw in the center of the valve cover on the carburetor. Remove the valve cover. Remove the rubber valve and gasket assembly from the inlet valve on the carburetor. Unscrew the four screws on the cover of the fuel pump. Remove the fuel pump diaphragm and gasket from the fuel pump.
Disassemble the mixing chamber. Take off the needle valve from its seat and remove the needle valve spring. Remove the metering arm and needle valve from the mixing chamber. Soak all of the parts in a carburetor cleaner solution. Scrub them clean with the metal brush.
Inspect the gaskets around the carburetor to make sure they are properly fitted. Inspect the inlet and outlet valves on the carburetor and make sure their filters aren't clogged or blocked in any way.
Inspect the small butterfly that's located inside the throat on the inlet valve. This small valve, about the size of a penny, regulates the air-fuel mixture in the cylinder. Unscrew and replace if necessary.
Inspect the choke's butterfly and the accelerator's butterfly, both of which are connected to the manual operator controls and are connected to the mixing chamber. Inspect the diaphragm in the mixing chamber and the fuel pump for any warping. If they are warped, the carburetor will need to be replaced
Reassemble the carburetor using the carburetor kit. Replace all of the seals, filters, Welch plugs and needle valve with their new parts from the carb kit. Install all of the parts in the original position that you removed them from.
Replace the valve covers with new covers. Make sure the needle valve is properly seated on the metering arm before putting the cover on. Remove and install the new fuel line and return line to the gas tank.
Test the carburetor to make sure it will hold positive pressure. Connect the pressure tester tool to the inlet valve on the carburetor. Submerge the carburetor into a bucket of water. Pump up the pressure to 50 Kpa or .5 bar and clamp the pump tube. There should be no leakage and pressure should hold for several minutes. If it can't hold pressure you will need to replace the carburetor.