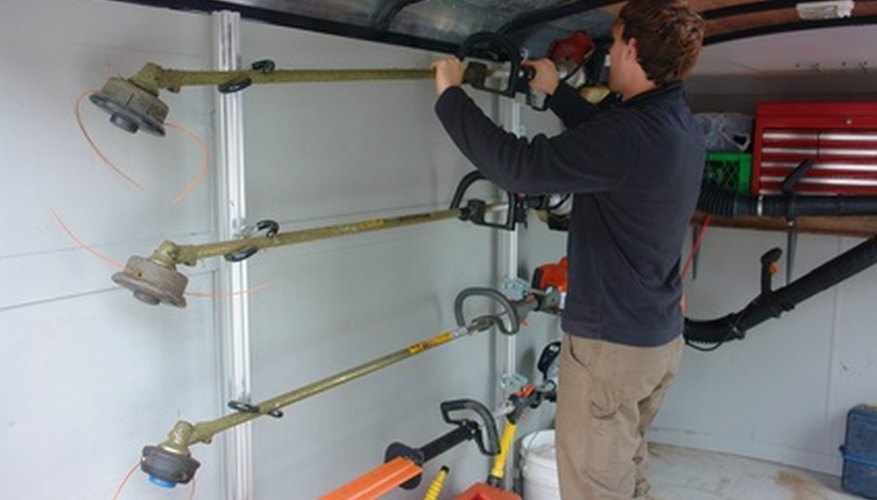 The clutch on Homelite trimmers is a centrifugal clutch, which includes a clutch drum, clutch shoes and spring. The crankshaft engages and spins the clutch, which powers the piston in the cylinder. The drum, shoes or spring can all wear out over time, and will need to be replaced. Removing the clutch on these trimmers can only be accomplished by blocking the piston from moving in the cylinder, therefore, this operation is better left to a professional or those who have prior small engine knowledge.
Unscrew the ignition housing screws on the trimmer's boom shaft. Disconnect the two lead ignition wires from the "On/Off" switch. Unscrew the screw holding the throttle cable to the engine.
Remove the cylinder cover. Unhook the throttle cable's Z fitting from the carburetor. Unscrew the four screws holding the control handle and boom to the front of the engine housing.
Slide off the rubber plug attached to the spark plug. Unscrew and remove the spark plug from the engine. Insert the piston stop tool into the spark plug's vacant hole. Turn the piston until it contacts the stop tool.
Loosen the captive screw that's holding the clutch drum and connector to the crankcase with the screwdriver. Pull the drum and connector off of the crankshaft.
Loosen the nuts holding the clutch shoes to the crankshaft counterclockwise with the wrench. Remove all of the clutches shoes, making sure you don't spread the fingers of the shoes as you pull them off the crankshaft. If the clutches have moved from their original position they should be replaced.
Inspect the clutch plate arms to make sure they aren't damaged. Unscrew the clutch plate and replace only if the centrifugal force is not allowing it to contact the clutch drum.
Reassemble all of the clutch shoes to their original position and screw in place with the wrench. Set the drum and connector back in place over the crankshaft; tighten their retaining nut. Remove the piston stop tool and reattach the spark plug and connecting wire.
Reattach the throttle cable's Z fitting to the carburetor. Place the starter cover back in place. Tighten the four screws holding the control handle and boom shaft to the engine. Reconnect the ignition wires to the "On/Off" switch and the ignition housing assembly.
Things You Will Need
Screwdriver

Socket wrench

Piston stop tool

Wrench
Tip
While Homelite makes a piston stop tool there are many options for piston stop tools. Any piece of thick rubber will do.
Warning
Blocking the piston with a piece of the starter cord can cause serious damage to your piston and exhaust port if you don't have the piston in the right position before inserting the cord.