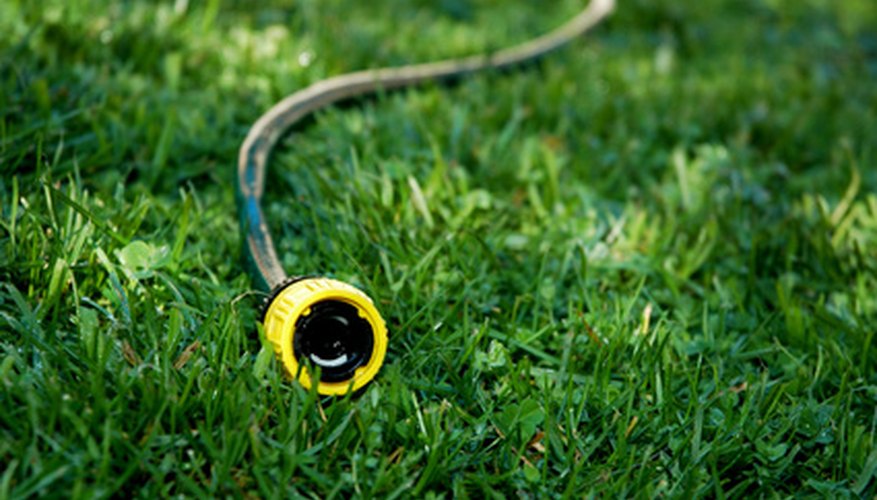 Lush grass can make any backyard appear fertile and attractive. Yet, even experienced gardeners can get frustrated growing grass. However, get the seed bed right and your chances of success rise dramatically. While sod is generally a faster option for building a healthy lawn, it's much more expensive. For a backyard, consider using grass seed and following a few steps to get a rich carpet of grass going.
Dig up the area where you want to grow grass. Use a spade and garden fork to turn over the soil, removing clumps, roots and weeds as you go. If you have a large backyard, use a mechanical tiller. Aim for good loose soil to a depth of six inches.
Test the pH of your soil. Use a soil testing kit available from hardware stores. Readings under 6 mean the soil is too acidic. Over 7.5 generally means too alkaline. Most grasses grow best between 6 and 7.5 pH. Add a little garden lime to acidic soil, or sulphur to alkaline soil depending on the condition of your soil.
Mix one part peat moss or compost with two parts good quality topsoil. Pick up both from a garden store. Use enough to cover your lawn area to a depth of three to four inches. Level off with a rake to avoid any pits or slopes.
Choose a grass seed. Ideal varieties depend on your location. For example, the grass species zoysia thrives in warmer southern states but does not do so well in the cooler north, according to the University of Minnesota.
Sow your grass seed evenly across your backyard lawn area. Add double the amount of seed to any areas that get poor light for much of the day. Water the area with a light spray from a watering can or sprinkler.
Water every day, twice if it is hot and sunny. Don't swamp the soil with a heavy watering. Instead use a sprinkler setting to coat the area in a moist layer that dampens the first few inches of the soil.
Mow your lawn only when it reaches a few inches in height and most of the grass seeds have taken root.