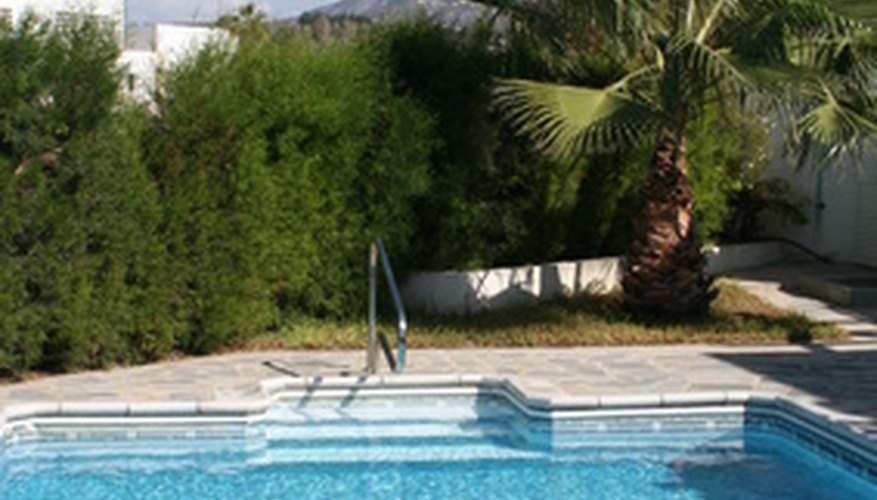 Water exposure and ground shifting make the plastered surfaces of older swimming pools particularly prone to damage over time. You must repair a hole or crack that leaks to avoid unnecessary water loss and prevent the crack from expanding. You do not have to hire an expensive pool repair technician, you can patch small holes and cracks in pool plaster yourself without having to drain the water out of your pool.
Step 1
Bevel the area around the crack with the hammer and chisel to 3/8-inch deep. Brush away any lose plaster or debris.
Step 2
Mix dry pool plaster and water in a bucket. Follow the instructions on the label for how much water to add. Thoroughly mix with a paddle until the mixture becomes a smooth, thick consistency with no lumps.
Step 3
Put the mixture in the palm of your hand and, with a twisting motion, press firmly down into the crack. Wear a face mask or goggles if you must go underwater to apply the patch. Rub the mixture completely into the crack with your hand.
Step 4
Push down firmly on the patch with the trowel and then trowel over it to remove excess plaster. Press down on the patch again with the trowel.
Step 5
Rub the patch with your hand to smooth the edges. Use your fingers to rub off any excess mixture and ensure a smooth edge with the existing plaster.
Things You Will Need
Hammer

Chisel

Pool plaster mix

Bucket

Paddle

Face mask or goggles

Trowel
References
Resources