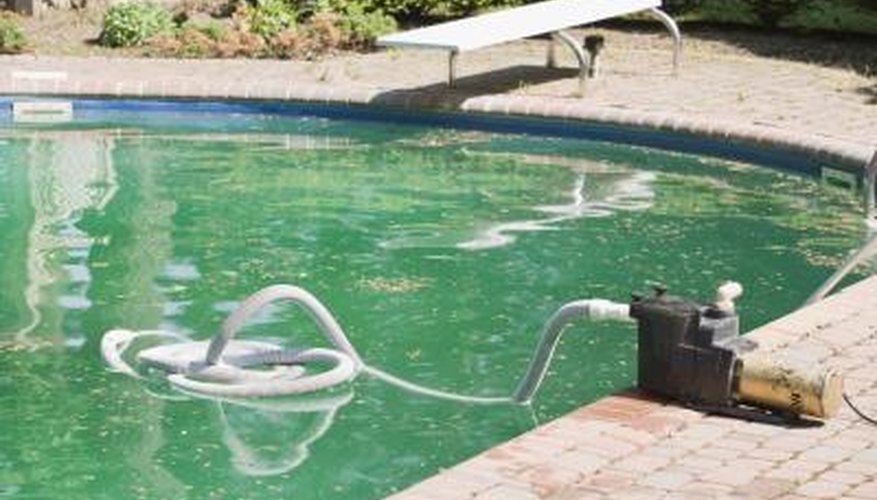 Hayward offers many products used in ground swimming pools, including filters, pumps and automatic cleaning systems. Automatic cleaning systems allow the user to hook the vacuum up, turn the pump on and leave the pool to clean itself, saving time and energy. The Hayward Navigator is one such automatic cleaning system. The most common problem when using an automatic pool cleaner, such as the Navigator, is when the vacuum has little or no suction. This is caused by air trapped within the vacuum or the pool's plumbing system.
Step 1
Disconnect the power to the pool plumbing system by unplugging the electrical cord. This will stop the pump and release the vacuum from the skimmer.
Step 2
Remove the vacuum hose from the skimmer, but keep it submerged in water so air does not get trapped within the hose.
Step 3
Dry your hands off thoroughly and plug the pool pump back into the electrical outlet. The pump will begin to pump the water through the filter. Allow the system to run for five minutes. This process will eliminate air from the system.
Step 4
Hold the vacuum hose up to the return jet to allow the vacuum hose to fill with water, ensuring there is no trapped air within the hose.
Step 5
Insert the vacuum hose, while keeping it completely submerged in water, back into the skimmer. The vacuum should now start sucking properly. If not, repeat this process until all air is removed from the system.