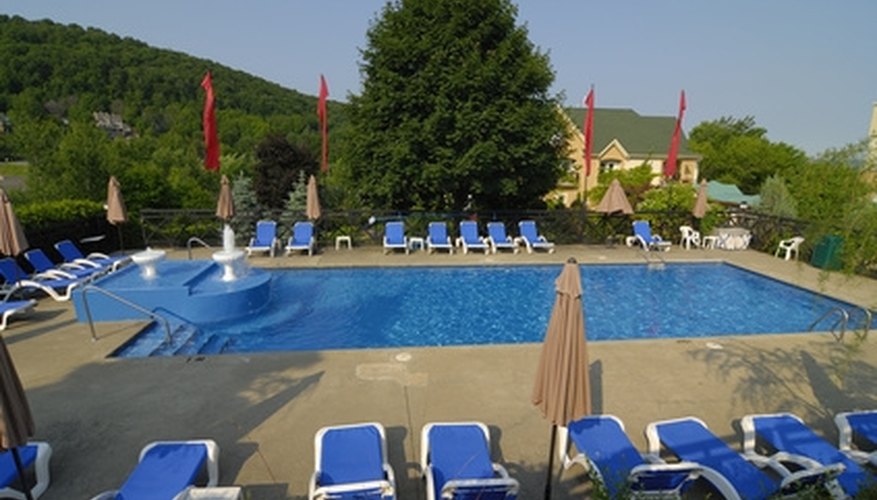 Most swimming pools run during the summer and are closed during the winter. Several tasks are performed when opening a pool after a winter season of being closed. Opening a pool readies it for swimmers and ensured the pool water stays sanitary. A shock treatment is performed during a pool opening to eliminate any algae or bacteria that has taken up residence in the pool water. A pool shock treatment performed during an opening is slightly different than a normal shock treatment.
Prepare the pool for the shock treatment. Remove any covers from of the pool. Clean out any leaves and debris that have accumulated over the winter using the pool vacuum and net. Perform any necessary opening procedures to get your pool up and running, such as priming the pump. Turn on the pump and let it run.
Predissolve the shock in a 5-gallon bucket. Shock treatment is typically a special package of chlorine powder or liquid. Fill a 5-gallon bucket half full with water. Pour the shock into the bucket and stir the mixture with a wooden utensil. If using a powder shock product, continue to add powder and stir until very little shock is sitting on the bottom of the bucket undissolved.
Apply the shock treatment to the pool. Walk around the outside edge of your pool and pour the mixture in the 5 gallon bucket directly into the pool water. The pump should be running during this procedure. Watch for any undissolved shock settling onto the pool bottom. Take a pool brush on a pole and gently run it over the undissolved shock to mix it with the water.
Concentrate placing some of the shock near your pool's jets or return line supply. The jets will push the shock and help circulate it around the pool and ensure that a wide area is treated.