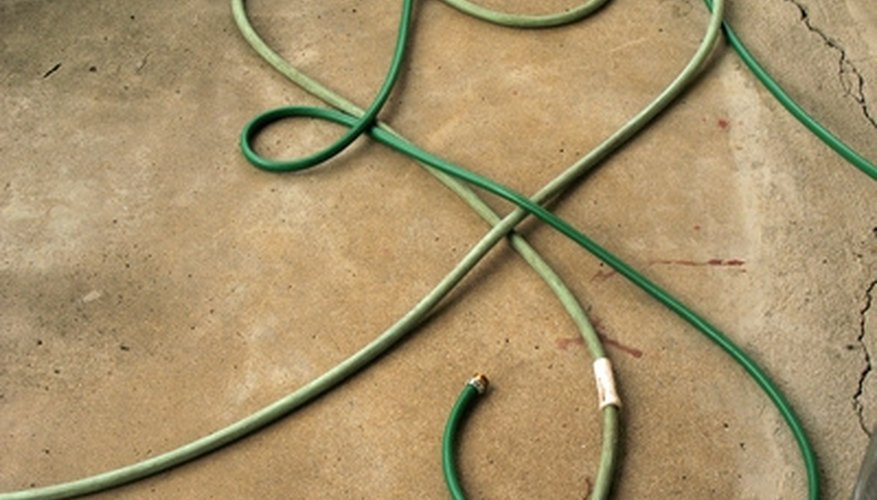 Replacing your existing countertops with solid concrete countertops can be quite expensive and may require paying high fees to hire a professional contractor. If you love the modern and high-end look of the concrete that is currently being used in home interiors, but you do not love the price tag, there is still a viable option. Overlaying your existing countertops with a layer of concrete will give you the exact same look, at a fraction of the price. And nobody will know that they aren't solid unless you choose to tell them.
Wear older clothing that covers you completely to protect your skin from wet concrete, which can burn. Wear work gloves and safety glasses. Put on a paper mask or respirator.
Lay down plastic tarps to protect your floors and other surfaces from being damaged by small pieces of flying concrete. Use layers of painter's tape to cover the lower portions of surrounding walls and your backsplash.
Cut the wire mesh concrete liner using sharp gardening scissors or wire snips. Cut one piece for each flat surface of the countertop, leaving 1 inch of the countertop uncovered around each piece. If the edges of the countertop chip, the mesh should not be close enough to poke out.
Place the piece of mesh that you cut for the top of the countertop into place. Arrange it so that it is as centered as possible. With a drill, screw through the mesh into the countertop approximately every six inches. Hold the edge pieces into place and attach them in the same way, one at a time.
Apply a layer of prepared concrete that is approximately 3/8 inch thick over the entire countertop, using a metal trowel. Cover each of the edges, as well. Carefully smooth the surface of the concrete using the trowel.
Examine the surface of the concrete. Locate any areas that are rough or uneven. Lightly mist any of these areas with water from a spray bottle. Gently drag the bristles of a medium, clean paintbrush against these areas to make them smooth and level. Wipe the bristles clean with a rag.
Cure the first layer of concrete for one hour. With the trowel, apply a second layer of concrete. Make this layer thick enough so that the counter is now your desired depth. Smooth the surface of the concrete with the trowel, then use the spray bottle and paintbrush to finish.
Run a rubber float gently over the top surface of the countertop in wide, rounded motions. Work the concrete until it is as smooth as possible. Cure the countertop 24 hours before using it.