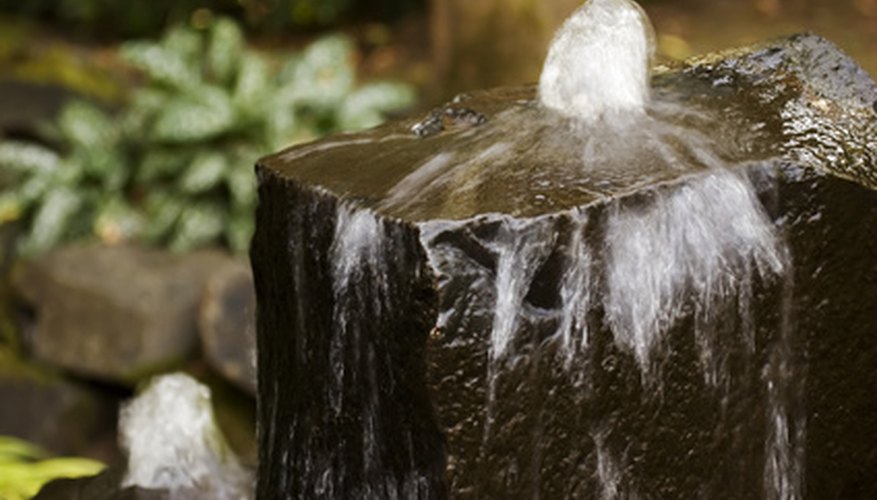 The sounds of a small waterfall create a sense of peace and tranquility. A waterfall can also create a unique accent to your home's landscape; however, we don't all have a garden or lawn expansive enough to accommodate a large waterfall and pond. If you have limited ground space or want to build a waterfall on a balcony or porch without digging, a small, self-contained waterfall is easy to build.
Place a plastic water trough in the desired location. It should be near an outlet for plugging in the pump. Water troughs are available from livestock suppliers and come in a variety of sizes, depending on your space. The trough can be above ground, or you can dig a hole and set the trough in the ground for a miniature pond effect.
Place a submersible fountain pump in the water trough and attach the tubing.
Fill the trough with foam packing peanuts until the pump is covered by about 1 inch. This will take up invisible space and keep the pump from being crushed by rocks.
Arrange rocks in the trough, on top of the packing peanuts. Fill the trough almost to the top, concealing the pump. Use any kinds of rocks you want, including large rocks, round stones, river rocks and pebbles.
Create a stack of slate stones on top of the rocks. Start with a large slate stone and gradually add smaller stones to create a series of steps. If necessary, slate can be easily broken by elevating two sides under blocks and fracturing it with a series of hammer hits. The steps will serve as the cascading surface for the water to fall down. As you add each piece of slate, use a drill with a masonry bit to make a hole for feeding the pump tubing through. Slate is a softer rock that is easy to drill. Drill the holes so that they are in line with each other and feed the tubing through as you go. Be creative in your use of slate stones, but make sure they are tightly stacked and secure.
Use scissors to cut off any excess tubing once you have added the last slate stone, so that the water just seems to bubble up out of the rock.
Fill the trough so that the water level is over the pump. Plug in the electrical cord to start the flow of water. Be sure to refill your waterfall basin periodically as the water evaporates.
Place potted plants around the waterfall basin if it is above ground, to hide the plastic walls of the trough.