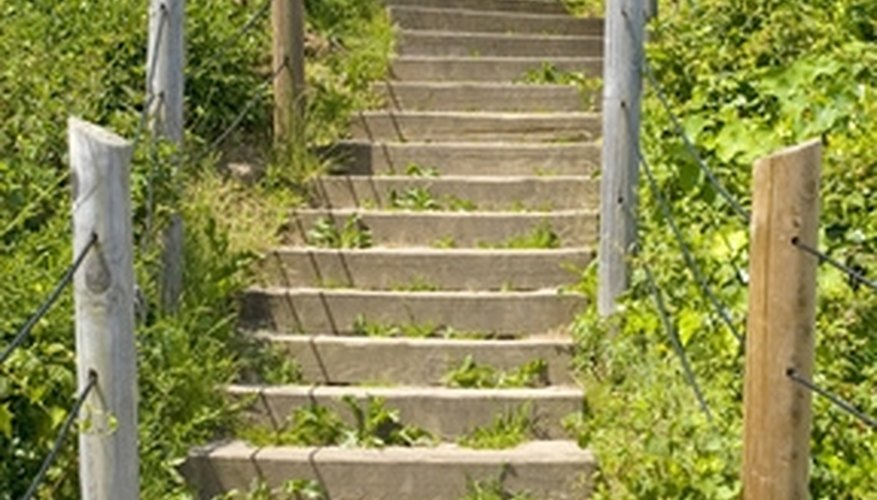 Pouring your own concrete steps is not an easy do-it-yourself project. In most cases, you should leave a project like this to a contractor or handyman to ensure the steps meet city code for rise and run. Preformed wooden stair stringers can make this project possible for the handy homeowner. The stringers come in a variety of sizes and allow you to set out a mold before pouring the concrete.
Level the spot where you intend to put your steps. Dig out excess dirt to level the area and compact firmly with the back of the shovel. Lay the stringers out in their intended location. Slide shims into the ground on either side of the stringers to support them and secure in an upright position.
Measure the distance across each step. Cut 2-by-8 lumber to fit across the stringer to form the front of each step. Attach the 2-by-8 piece of wood to the stringer tightly using deck screws. Spread cooking oil across the inside of the stair mold. Greasing will make it easier to remove the boards once the stairs have cured.
Purchase premixed concrete from your local home improvement or hardware store. Premixed concrete is a blend of cement, sand and gravel and is a good choice for small home improvement projects like stairs.
Shovel the concrete into the mold overfilling slightly. Tamp down the concrete and eliminate bubbles and air pockets with a shovel. Smooth the top of each stair with a trowel. Allow the concrete to cure for 24 to 48 hours. Remove the forms.
Coat the steps with a sealer to protect the concrete from moisture. You can find concrete sealer in the paint section of your hardware store. Roll the sealer on the steps with a quarter-inch nap roller.
Things You Will Need
Shovel

Stair stringer

Shims

Lumber 2 x 4

Lumber 2 x 8

Deck screws

Screw driver

Cooking oil

Concrete

Bucket or wheel barrow

Trowel