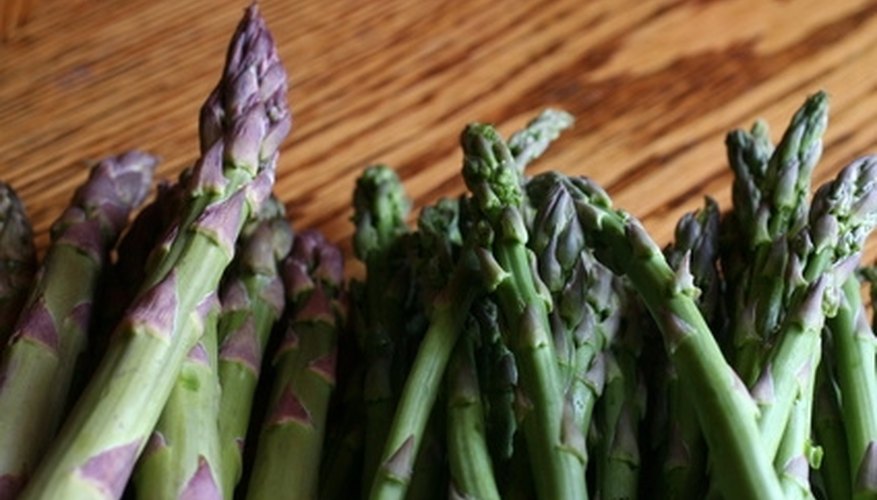 You don't want to raise just one asparagus plant. You'll want a bunch of them, because that's the only way to grow enough tasty green spears to satisfy your family and friends. Asparagus can be grown from seed, but most gardeners will find it easier to plant year-old, disease-free crowns from a reputable grower. With proper care, each plant will produce a half-lb. of asparagus each spring for at least 15 years.
Choose a sunny, permanent planting site in well-drained soil at the north or west side of the garden, so plants can grow undisturbed into a permanent bed. Asparagus is a hardy perennial with extensive roots that compete for water and nutrients, and its ferny vegetation can shade other plants.
Cultivate the soil to a depth of at least 12 inches, in mid- to late spring when soil is warm and can be easily worked, tilling or digging deeply. Asparagus needs well-drained, non-acidic soil but otherwise isn't too picky. Test your soil pH to make sure it's fairly neutral, in the range of 6.5 to 7.5.
Hoe planting furrows no deeper than 5 to 6 inches. Planting deeper will reduce asparagus yield. Space rows 5 feet apart, to accommodate later above-ground fern growth. Add 2 lbs. of superphosphate per 50 feet of row--essential for vigorous spear production.
Place asparagus crowns in the furrow 12 to 18 inches apart, on top of the fertilizer. Fill the furrow with displaced soil, to ground level, but don't compact the soil. Water well as needed. Spears should emerge within one to two weeks, depending on soil conditions.
Don't harvest during the first or planting year. Allow first-year spears to grow into ferns, because this green, above-ground vegetation will produce food, through photosynthesis, that new plants will store to produce next year's spears.
Allow ferns to keep growing at the end of the growing season, especially if you're growing the new all-male hybrids that keep growing until frost. The longer photosynthesis continues, the more the next year's production gets a boost. Remove old fern growth in spring.
Begin regular spring asparagus harvests during the second year. New spears will begin to push up from the soil when its temperature reaches 50 degrees F. Snap off spears when they stand 7 to 9 inches above the ground; avoid cutting them off with a knife below the soil's surface, which can damage buds. Pick the patch clean. Don't allow any spears to fern out.
End harvest when most spears are small, less then 3/8 inch in diameter. Snap off all spears at ground level. Add nitrogen to support vigorous vegetation, either applying 1/2 lb. of ammonium nitrate per 50 feet of row or working in plenty of composted chicken, horse or steer manure aside dressing. Weed as needed.
Harvest in subsequent years as circumstances dictate. The second harvest year will usually last four to six weeks and subsequent seasons, six to eight weeks. Early in the season you'll harvest 7- to 9-inch spears every two to four days, but as the air warms up you'll harvest more frequently--once or twice daily--and spears will be smaller, 5 to 7 inches tall.