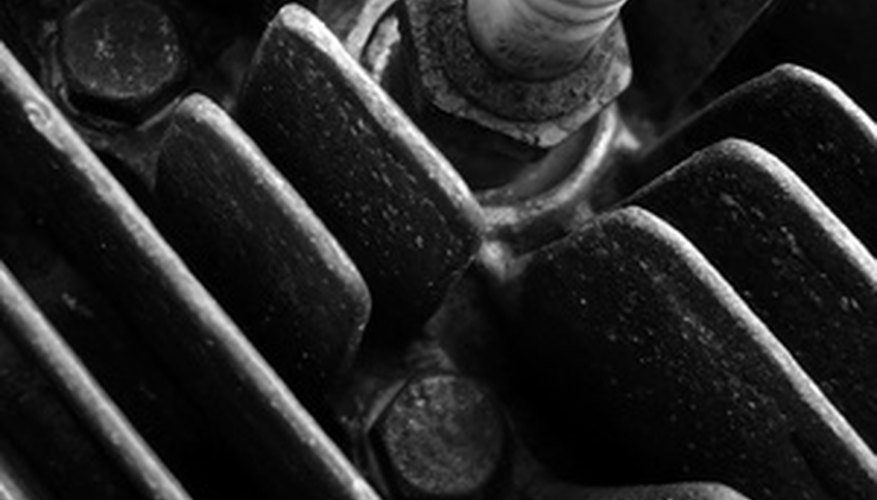 A spark plug boot is a cover, usually made of a rubber compound, that seals the connection between a spark plug wire and the spark plug. The boot is an important part of the engine's electrical system because it serves two functions: it keeps moisture and dirt from fouling the clip on connection between the spark plug wire and the spark plug, and it prevents electricity from arcing from the spark plug wire or spark plug connection to any nearby metal on the engine. Spark plug boots are easily replaced, and they can be repaired by following a few simple steps.
Pull the spark plug boot from the spark plug. Be careful not to tear it because boots become fragile with age and high temperatures. Open the boot repair package, remove the silicone mesh fabric and set it aside.
Clean the boot thoroughly with carburetor cleaner and a rag to remove all grease and dirt. Be careful not to pull too hard on the attached spark plug wire so you don't pull it loose from the coil, which is usually buried under several covers on the lawn mower engine. Let the boot dry.
Cut a piece of silicone mesh fabric using scissors so that the mesh fits snugly when wrapped completely around all portions of the spark plug boot. Remove the cut fabric from the boot, then completely cover the exterior of the spark plug boot with a light coating of silicone gel, which is supplied with the boot repair kit.
Tightly wrap the piece of silicon fabric on the gel-covered spark plug boot. Smooth the fabric out so that it's compressed against the gel on the boot. Squeeze the boot several times all over to remove any air bubbles.
Apply a light coating of silicone gel on top of the fabric, and smooth it over. Allow the spark plug boot to dry overnight. If done successfully, you thickened the dimensions of the spark plug boot, essentially creating a new boot over the old boot. Reattach the spark plug boot and wire to the spark plug, being careful not to damage the new boot in the process.