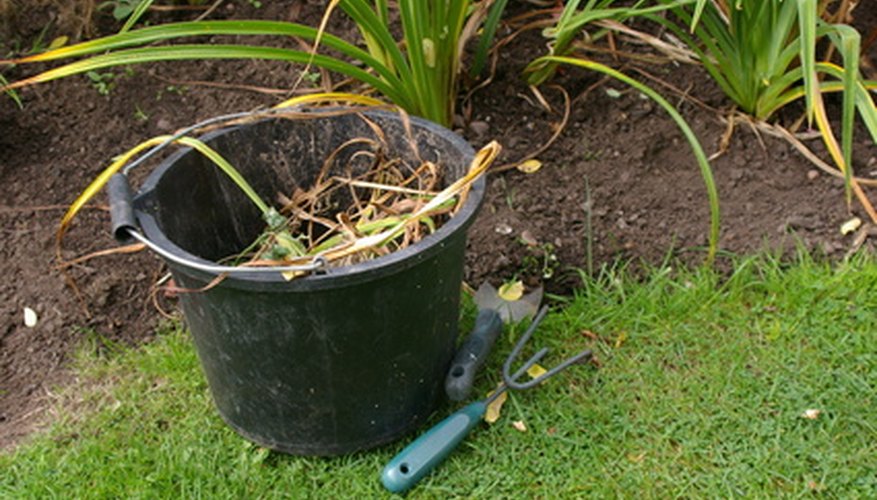 Weeds are pesky in the yard and garden, often overtaking an otherwise beautiful area of landscaping. Pulling weeds by hand is one option; however, this is a time-consuming and pain-staking process. Commercial weed killers often contain toxic ingredients. Opt for a homemade weed killer to control weeds.
Borax Weed Killer
Step 1
Fill a bowl with 1/2 cup warm water. Add 10 oz. borax powder to the water and stir until the borax is completely dissolved.
Step 2
Dilute this mixture into a large bucket with 2 1/2 gallons of water. Transfer the mixture to empty spray bottles or a garden sprayer. For smaller areas, cut the recipe in half.
Step 3
Spray the mixture onto the weeds you want to get rid of.
Vinegar and Salt Weed Killer
Step 1
Fill a bucket with 1 gallon white vinegar. Add 1 cup table salt and 1 tbsp. liquid dish soap to the bucket.
Step 2
Stir the ingredients with a long-stemmed spoon to thoroughly combine. Transfer the mixture into clean, empty spray bottles.
Step 3
Spray the mixture directly onto the weeds. Store the excess solution in labeled spray bottles.
Boiling Water Weed Killer
Step 1
Fill a large pot with water. The amount of water and size of the pot will depend on the size of the weeded area you want to get rid of. Make sure there is ample water to completely saturate the weeds.
Step 2
Place the pot on the stove. Bring the water to a boil.
Step 3
Carry the boiling water to the yard where the weeds are located. Use hot pads to carry the pot and be careful not to spill the water on yourself.
Step 4
Dump the boiling water onto the weeds. The hot water will essentially cook the weeds to death.
Lemon Juice and Vinegar Weed Killer
Step 1
Pour 4 oz. lemon juice into a 1-qt. spray bottle. Fill the bottle the rest of the way with white vinegar.
Step 2
Shake the bottle a few times to thoroughly combine the ingredients.
Step 3
Spray the mixture onto troublesome weeds. For larger weeds, more than one application may be required.
Things You Will Need
Bowl

Water

10 oz. borax powder

Spoon

Large bucket

Empty spray bottles or garden sprayer

White vinegar

1 cup table salt

1 tbsp. liquid dish soap

Large pot

Stove

Hot pads

4 oz. lemon juice

1 qt. spray bottle