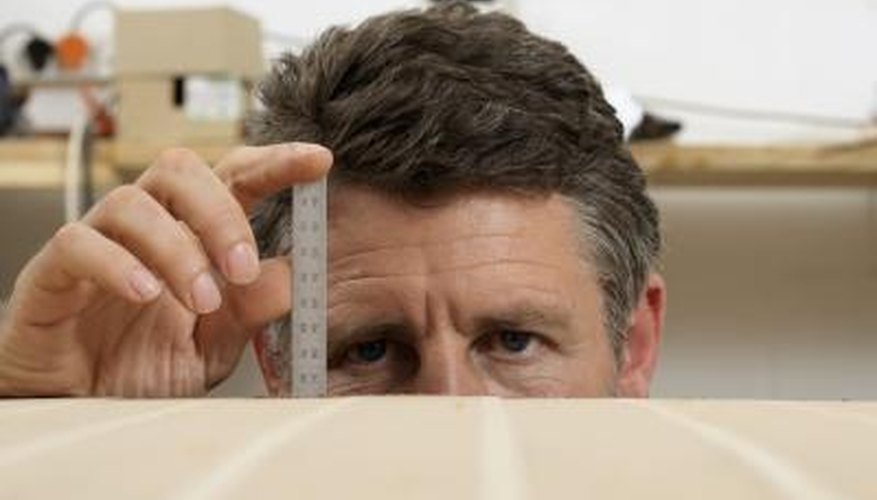 If you are planning to build a stud wall on a slab floor, you will have to anchor the wall so it does not shift. Anchoring a stud wall to a concrete floor is a time-consuming and messy task that should not be attempted by novice do-it-yourselfers. An improperly anchored wall can cause damage to your home and injury to its occupants. If you decide you are equipped to tackle it, allow at least one day to complete a 20-foot wall.
Step 1
Measure and mark the desired location of the stud wall on the floor with chalk. Snap a chalk line between measurement marks to create a guide line.
Step 2
Erect the stud wall along the guide line. Nail lumber sections to the stud wall to brace it in place. Check the studs with a carpenter's level to make sure the wall is straight.
Step 3
Drill 3/8-inch holes through the bottom plate (the lumber section that runs along the bottom of the stud wall) between each stud. You will insert the anchors through these holes. Most building codes require anchors every 32 inches, but you can place them every 16 inches for added stability.
Step 4
Drill through the holes in the bottom plate into the concrete slab with a masonry drill. Thoroughly vacuum concrete dust and debris as you work.
Step 5
Drive the 3/8-inch anchor bolts through the bottom plate into the concrete with a hammer. Slip a washer over each anchor bolt and tighten it down with a nut.