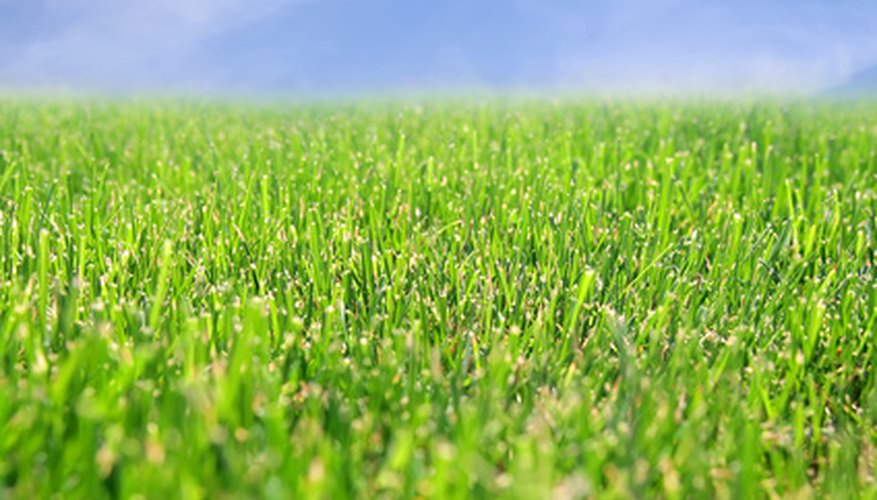 green lawn image by Vladimir Koshkarov from Fotolia.com
With the right preparation and care, grass lawns survive and thrive in an Arizona summer. Bermuda and its hybrids are the grasses of choice for Arizona lawns. Common Bermuda varieties can be planted with seed, according to Arizona gardening website Phoenix Tropicals, but most hybrids are available only in sod form. Either way, the ground must be sufficiently prepared to accept seed or sod.
Till the soil. In Arizona, the ground is extremely hard and you will likely need to use a power tiller. While tilling, work mulch or compost mix into the soil to make it more fertile. Till to a depth of 3 inches or more. This is also the time to ensure your lawn is level and drains properly. According to the University of Arizona College of Agriculture and Life Sciences, level lawns are easier to water, mow and maintain.
Plan your sprinkler layout carefully and install the system or have it done professionally. In the Arizona heat, watering with movable sprinklers or a hose is not enough. Ensure your sprinklers will provide water coverage to the whole lawn.
Install borders, buffer zones of decorative rock along areas where you do not want grass. Keep in mind that Bermuda grass spreads easily, quickly filling in the yard but also moving into your flower beds and other places where it's not wanted.
Plant Bermuda grass in mid-April, after nighttime temperatures are consistently above 60 degrees F. Use a drop spreader to sow seed, then a fertilizer spreader to cover the seed with a layer of compost/mulch/manure mix. Unless you use a deodorized mix, the air will be fragrant for several days, but your seeds will be kept warm and moist and protected from hungry birds. If you don't have access to a fertilizer spreader, cut open the bags of compost and spread the mix across the yard, using a rake to ensure an even layer.
Plant hybrid Bermuda sod by placing the strips of sod on top of the prepared soil. Rent a lawn roller to roll over the sod for evenness and to press the roots tightly to the soil. Because sod can be expensive, you may opt to purchase less sod and break the strips into smaller pieces to plant evenly around the yard. Remember, Bermuda grass spreads quite well and will eventually fill in the entire lawn. If you choose that method, you will probably need to add soil between sections to keep the contour of the lawn even.
Water the new lawn, whether seed or sod, for 10 minutes at a time twice a day for the first three days, then slowly taper off. Maintain watering to keep the lawn moist. Often, sprinkler systems will have a new lawn setting that will water the lawn for two to three minutes several times a day. The key is to keep the ground moist but not soaked. Try to keep off the grass for at least a couple weeks to a month, even longer for a seeded lawn. Your grass should come up from seed in about two weeks, and sod should take root within 10 days to two weeks.
Mow your new Arizona lawn when the grass has grown to one-third greater than the length you want your lawn to be, according to University of Arizona's Master Garden Manual. Mow in the driest times between watering so as not to damage the root system by mowing a wet lawn, and take care along the edges of sod sections so as not to pull them up. Keep lawn mower blades sharp, and never cut more than one-third of the height of the grass at one time.
Things You Will Need
Tiller

Mulch/compost mix

Sprinkler system

Grass seed or sod

Drop spreader

Fertilizer spreader