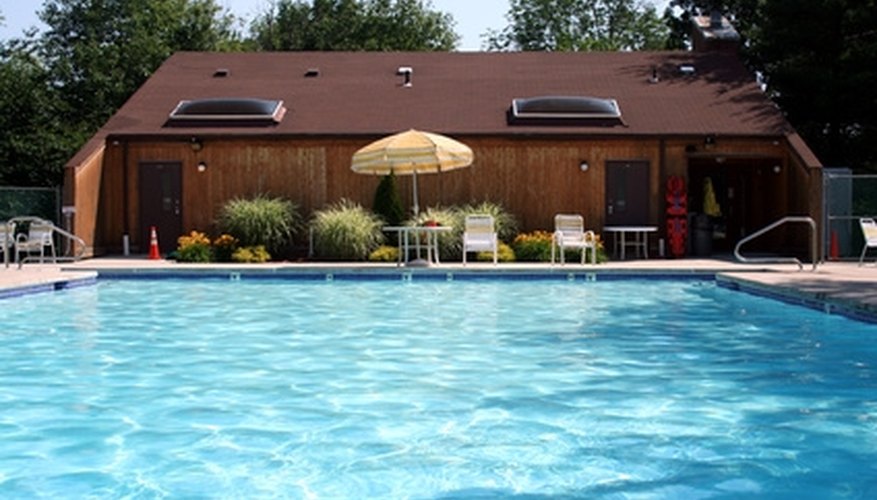 An inground swimming pool sealed with a vinyl liner, as opposed to a plaster membrane, has both pros and cons. A pool with a liner is cheaper to build, and the soft vinyl is less likely to lead to injuries such as scrapes and stubbed toes. On the other hand, a vinyl liner is less durable than plaster and requires occasional repairs. Major tears in the liner require professional attention, but the most common small punctures and tears can be repaired easily. The most frequent indication that a liner is damaged is loss of water.
Repairing a Vinyl Liner
Inspect the track into which the liner has been fitted along the contour of the pool. Lock any loose liner back into place. Use a heat gun, if necessary, to make the vinyl more supple as you stretch it into place. Use liner lock to fix the liner in place if the bead is damaged or if it repeatedly comes loose.
Search for punctures or tears in the walls of the liner. Look particularly in areas where the liner is already tightly stretched, such as around the stairs, near the liner track and at corners or bends in the pool's contour. Also look carefully at areas where the liner in wrinkled. Use a pool-rated vinyl patch kit to repair the damage.
Check the floor of the pool for punctures or tears. Wear swim goggles to see well enough to detect damage. Depending on the size and depth of the pool, consider using scuba gear for a more efficient inspection. Pay closest attention to areas with inconsistencies, and especially to sunken-in areas, which may indicate that the sand foundation of the pool is being washed away by leaking water. Use a pool-rated wet patch kit to repair the underwater damage.