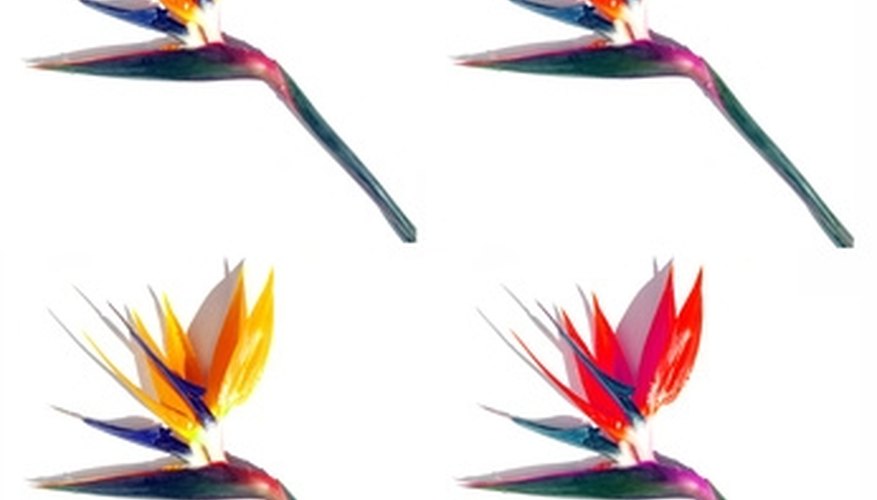 The red bird of paradise is a striking plant that draws attention to any landscape. Its flower, when in bloom, has characteristics similar to those of a bird's beak and plume. Bird of paradise prefers warm temperatures and does well in southern gardens. People who want bird of paradise often purchase it as a seedling, but it can be grown from seed. Be aware that when started from seed, it may take two to three years for a red bird of paradise to bloom.
Put dry bird of paradise seeds in a sealed plastic bag and store them in the bottom drawer of a refrigerator for two weeks.
Remove the seeds from the refrigerator and let them sit on the counter for 24 hours and return to room temperature.
Fill a glass with warm water and put the seeds in the water. Soak the seeds for 24 hours. Once the seeds have soaked for a day, remove them from the water and nick the seed coat with a sharp knife.
Fill 3-inch pots with a seed starter soil mix and moisten the soil. Plant the bird of paradise seed 1/2 inch beneath the soil and tap it down gently.
Cover the pots with clear plastic wrap and set them in a warm location with indirect light, such as the top of a refrigerator. When seedlings emerge, which can be within ten to 14 days, move them to more direct light.
Transplant outdoors when all danger of frost has passed. Dig the location for the bird of paradise in full sun, with soil that has adequate drainage. Make the hole the same depth of the pot but twice as wide as the pot the plant is currently in.
Insert the plant into the hole, and fill the hole back in with soil, being sure to cover the roots well. Water the plant until water just begins to stand on top of the soil, then let the water drain. If any soil settled down into the roots, fill in with more soil.
Keep the soil around the plant moist in the spring and summer, but allow it to dry between watering in the fall and winter months.
Put a 2-inch layer of mulch around the top of the planting area, but keep it 2 to 3 inches away from the plant stem at all times.
Fertilize the plant during the growing season (spring and summer) with an organic fertilizer such as manure or a slow-release granular fertilizer, both of which are available at lawn and garden centers. Follow the directions on the package label.