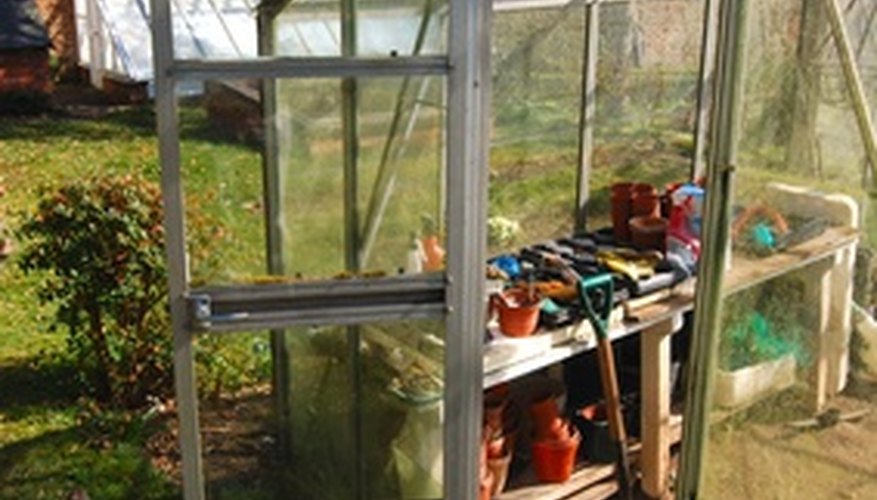 A greenhouse lets a gardener extend the growing season by starting plants in cold weather for transplanting in the spring. With used materials, a handy person can build a glass greenhouse that will be larger and sturdier, and offer more shelf space, than a tiny commercial plastic unit--which likely costs more. An added bonus is a sense of pride, even before the first seeds sprout.
Search Craigslist, Freecycle and yard sales for old windows or patio doors for your greenhouse. Making the greenhouse is easier if you find many doors and windows the same size, but it isn't absolutely necessary that they match.
Draw a plan for your greenhouse using computer software or graph paper. It is important to get the dimensions of the windows and doors accurately transferred to your plan. In some climates, you may want make the north side of the greenhouse glass-free to limit the effects of winter weather on your plants. Covering the outside of this solid wall with the same exterior siding as your house is a good way to make the greenhouse blend in.
Check with your local planning board to see what permits may be required. There may also be local building codes that determine what type of foundation your new greenhouse must have.
Barring any code requirements, excavate several inches of soil from the site of your greenhouse and pour a base of crushed stone for a floor.
Construct the frame for your greenhouse using the pressure-treated two-by-sixes; measure and cut carefully. Space the uprights to accommodate the windows you have--they do not need to be uniformly spaced. Make the top and the bottom of the frame with doubled-up two-by-sixes. Use nails or deck screws to build the frame. Attach windows that are still in their frames to the greenhouse frame with deck screws.The windows can be set between the frame uprights, or screwed to the outside with deck screws. Driving the screws with an electric drill and screwdriver bit is much easier on your hands and wrist than using a manual screwdriver. Place one of the used storm doors in an end wall to serve as the entrance.
Attach the two-by-six rafters for the roof, allowing enough slope for your area. Locations that do not get significant snowfall can get by with less slope than areas of the country that experience heavy winters. In heavy-snowfall areas, it may be desirable to build a gable roof with the north side sheathed in plywood and shingled and the south side covered with polycarbonate sheets. This construction provides good lighting and excellent snow protection. Otherwise, use polycarbonate sheets for the entire roof.
Finish the interior of the greenhouse with benches for the plants and a worktable.