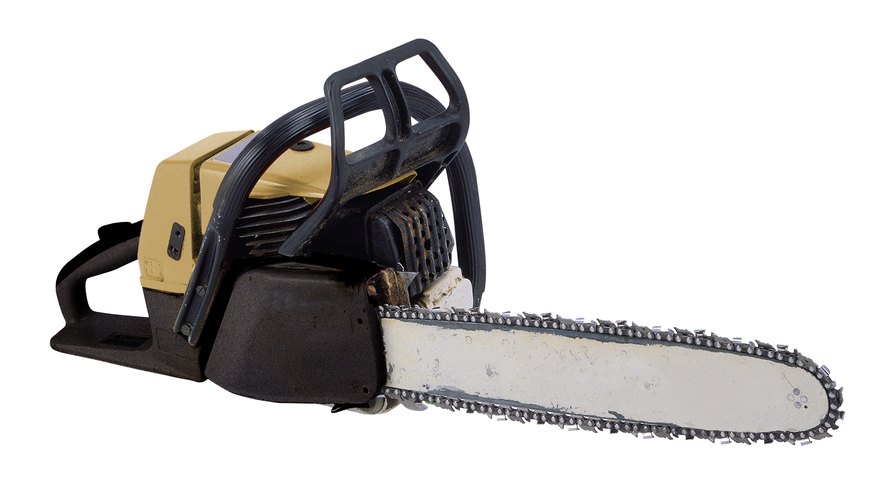 The fuel line on a Poulan chain saw feeds gas from the tank into the engine. The fuel line is connected to the fuel filter inside the tank and runs all the way through the throttle and into the carburetor. These gas lines can often get dirty, clogged or cracked. Proper gas and air flow through the carburetor is essential to maximize engine power. Replacing the fuel lines on a Poulan chain saw is simple and should be performed on a regular basis, depending on how much you use the saw.
Drain the fuel from the fuel tank back into your saw gas container. Start the saw and let it run until the engine dies to get rid of any excess fuel in the lines.
Take off the fuel tank cap and set aside in a clean, safe place. Disconnect the fuel line from the carburetor with the needle-nose pliers if you can't reach it by hand. This will be near the throttle and on some Poulan models you may need to remove the air filter and air filter cover. However, you do not need to disassemble the throttle or the starter to access the fuel lines.
Use the needle-nose pliers to grab the fuel filter sitting at the bottom of the tank. Pull up on the fuel filter, which is connected to the fuel line. Pull both of these out of the saw and discard them.
Cut off about 10 to 12 inches of new fuel line. Cut one of the ends at a 45-degree angle. Slide the metal wire into the new fuel line.
Push the angled side of the new fuel line into the hole at the bottom of the gas tank. Push the fuel line and wire through until the line pokes out the back near the carburetor. Wait to connect it to the carburetor.
Remove the metal wire and cut off any excess fuel line inside the gas tank. The fuel line should dangle loosely inside the tank. Pull the fuel line back out a few inches and attach the new fuel filter by inserting the filter into the fuel line's hole.
Push the fuel line back into the tank. Use the needle-nose pliers to grab the back end of the fuel line and pull it toward the carburetor. Reattach the fuel line to the carburetor.