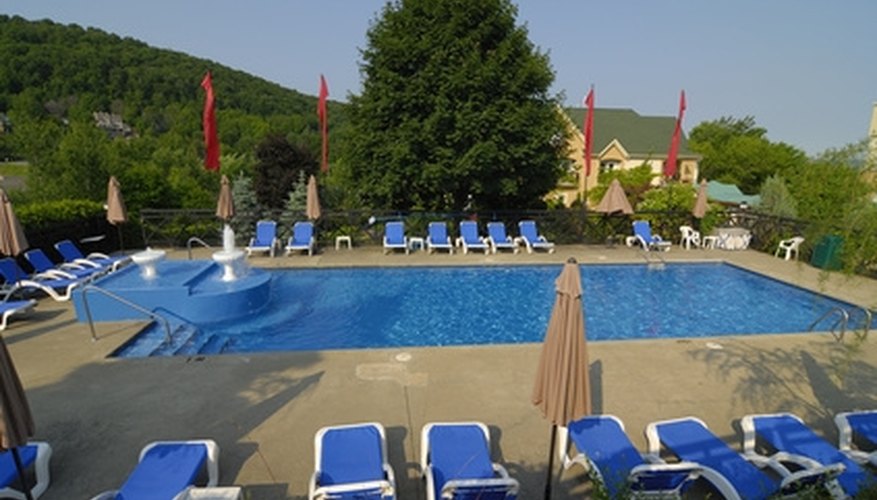 Refinishing is one way to make your concrete pool deck look like new, and will certainly cost less than replacement. Climate affects concrete, so be sure to choose the right finish that will weather well over the years. When considering a new finish for your pool deck, check out other concrete pool decks in your area to get a good idea of what you will like. Then take your pick and let the work begin.
Rid the surface of ALL dirt and oil spots with a pressure washer. Make sure to clean and rinse the surface thoroughly. Sometimes, repeated treatments are necessary. It is better to "over clean" the surface, than leave any trace of dirt or oil behind.
Wash non-porous concrete with a mixture of one part muriatic acid and one part water. Doing so will slightly etch your pool deck surface. Observe all state and local safety requirements for using chemicals and use full respirators. If plants are present around your pool deck, protect them with plastic sheets. Etch dirt/paint from smooth surfaces without the acid.
Remove tough dirt/paint from the concrete surface with a high-speed grinder and a diamond blade or a concrete hammer and chisel.
Use a brush or sponge to seal cracks and rough areas with 10 parts acrylic and 1 part Polacrete™ powder mixture. Apply 2 to 3 times until the application soaks into the surface. Next, apply a thicker solution made of 1½ part acrylic, 1 part Polacrete™, and 2 parts silica sand. Add color pigments, if desired. Do not let the first mix dry!
Resurface the pool deck. Use one part Polacrete™ Part A powder mix--No. 30 for a non-skid surface, No. 60 for medium grade smoothness, No. 90 for a very smooth surface--two parts silica sand, and acrylic to adjust viscosity.
For a thin and easy-to-use mix, add acrylic mixture Polacrete™ Part B to 1-1½ parts Part A and 2 parts silica sand. Use a 24-inch squeegee to spread, for a lasting, like-new surface.
Prevent heat from causing your concrete to grow and expand by saw-cutting stress cuts no wider than 6 feet apart in both directions and two inches deep into the surface. Use a concrete saw and diamond blade to cut.
Seal your pool deck concrete with a thin acrylic sealer by spreading thinly and evenly over the surface of the concrete, making sure to spread out any puddles. A one-gallon sealer can cover 300 to 400 feet, depending on porosity. But don't over-seal. Color pigment may be added.
Things You Will Need
Muriatic acid

Water

Brush

Sponge

High speed grinder

Acrylic

Polacrete

Silica sand

Concrete saw

24-inch Squeegee
Tips
Acid solution will not work with the slightest hint of surface oil. Use squeegee, hand trowels, broom, paddle mixer, and a ½-inch drill with your solution.

Always rinse with Tri Sodium Phosphate (TSP) after an acid wash and each cleaning process.

Vacuum used cleaning fluids into empty five-gallon bucket with proper labels. Dispose in proper disposal sites.
References