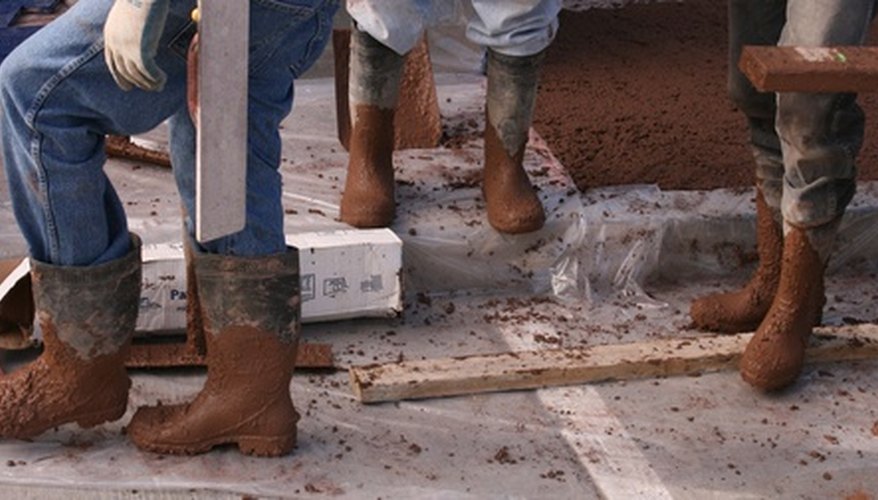 If you will use your garage for more than just storing your car overnight, you might consider heating it. Radiant floor heating is a solution for your concrete garage floor. The concrete can be heated by using a radiant floor heating system. PEX pipe circulates hot water through the concrete slab.
Step 1
Take a sketch of your garage to the radiant floor heating supplier. Work up a materials list with the supplier. The company will give you a PEX pipe layout plan that shows the best way to run the pipe.
Step 2
Apply a layer of foil-backed bubble insulation on top of the existing concrete. Tape the seams together to provide a continuous insulation barrier. Apply the insulation with the foil side up.
Step 3
Cut and lay out a layer of heavy gauge wire panels on top of the bubble wrap insulation. The wire is a smaller gauge than rebar and will strengthen the concrete. Elevate the wire panels 1 inch off the insulation. Use plastic spacers for this application. Your local hardware store should carry them. Hold the wire away from the edges by 9 inches.
Step 4
Attach the PEX pipe to the heavy gauge wire panels. Use wire ties every 16 inches to hold it in place. Loop the pipe 6 inches apart at the perimeter of the garage. Work in toward the middle, increasing the distance until the pipe is no more than 16 inches apart. This will be shown on the PEX pipe plan.
Step 5
Bring the PEX pipe out of the garage floor where you will locate a tankless hot water heater. Use electrical conduit mounting clips to connect the PEX pipe to the bottom of the wall. This will keep the pipe tight against the wall as it comes out of the new concrete.
Step 6
Leave 3 feet of PEX pipe out of the clips. Cut and cap the ends. This will leave the plumber enough pipe to connect to the circulating pump and the tankless hot water heater.
Step 7
Pour 3 inches of concrete over the PEX pipe. Taper the concrete so that it will drain out the garage door. The last 12-to-16 inches of the concrete pour needs to taper more to allow a slope for the vehicles to drive on. Do not have any PEX pipe in this area.