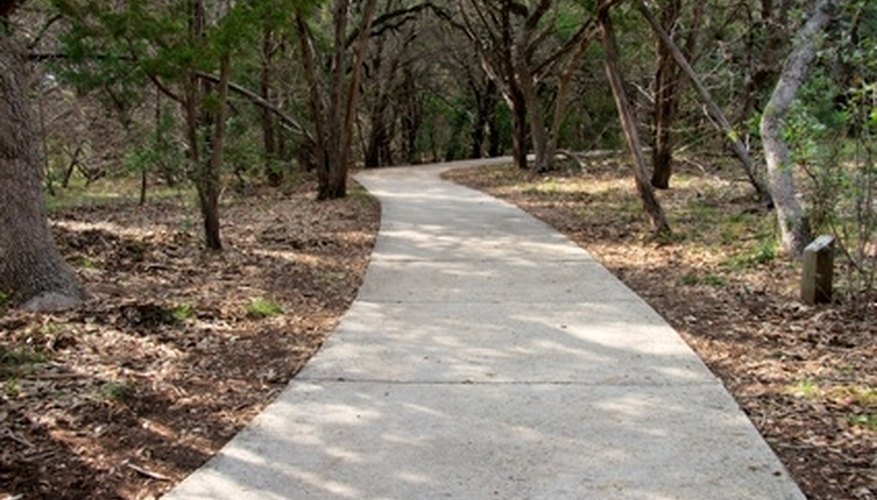 Concrete sidewalks and driveways are often prone to pitting and cracking because of their exposure to the elements on a consistent basis. While severely pitted surfaces may need to be completely removed and reinstalled, those that have the occasional pit can take a patch with a water and cement mix. Once you have cleaned up the pit with a simple hammer and chisel, you can quickly mix concrete and fill the pit.
Mix the bag of dry cement with water in a large metal bucket. Use a shovel to mix thoroughly. Find the ratio of cement to water on the package.
Strike the chisel with a hammer to break weak pieces of concrete around the pit. Fashion the pit into a square with an even bottom and slightly undercut sides.
Clear the pit by sweeping concrete chunks and vacuuming concrete dust.
Brush on the concrete bonding liquid using a standard paintbrush. Brush thoroughly onto the sides of the pit and the bottom.
Scoop the concrete mix into the pit with a trowel until it is completely filled. Be sure to firmly press concrete into the corners.
Level the concrete. With your trowel, spread the concrete evenly so that the surface of the wet concrete is even with that of the driveway or sidewalk.
Add texture to the repaired pit by sweeping over the wet concrete surface with a moistened broom.
Let the concrete dry for 24 hours before using the driveway or sidewalk.