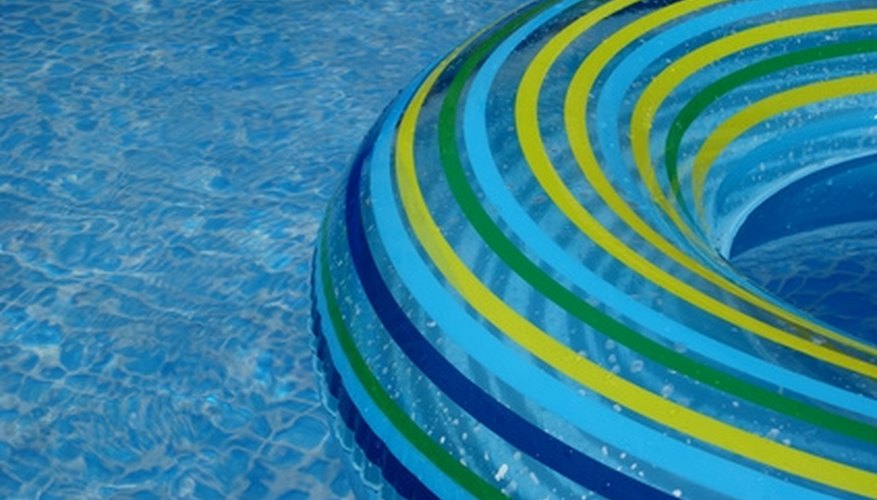 An inground pool with a liner is much easier and faster to install than a regular concrete-formed pool. The cost of a lined inground pool will also be significantly less than its concrete counterpart. There are drawbacks to having a lined pool, however. During installation and after, wrinkles can develop in the bottom of the pool liner. When this happens, the excess liner can become caught and torn in a vacuum cleaner. You'll only need a couple of tools to get wrinkles out of your inground pool liner.
Place a hose into your empty pool, and turn it on. The weight from the water will help to push out the wrinkles.
Get into the pool. If wrinkles are throughout the liner, start from the center to remove wrinkles. If they are interspersed throughout, work in sections wherever they are.
Use the flat portion of a pool brush to push wrinkles out of the pool liner. Work from the wrinkle towards the outside edge of the pool. Push with a slow, steady pressure. Don't press too firmly to avoid tearing the liner.
Use a plunger to remove small wrinkles in a pool that is already filled. Place the plunger next to the wrinkle and push up and down to help spread the liner from side to side to disperse the liner.
Empty the pool, and hire a professional to reset the liner if the pool is already filled and the liner has numerous large wrinkles.
Things You Will Need
Pool brush

Toilet plunger