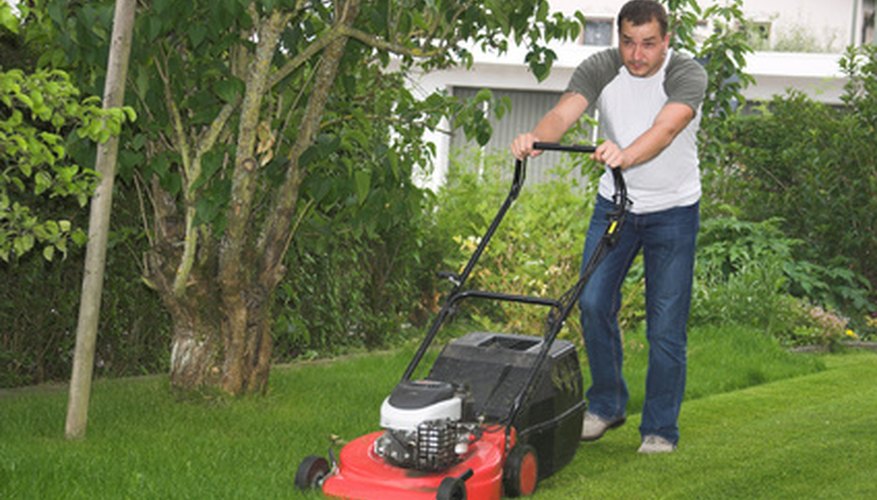 Sears Craftsman lawn mowers are one of the most popular lawn mower brands in America. Their name is synonymous with superior technology and powerful engines. Just like every lawn mower, however, they can break down. Most of the repairs on a Craftsman lawn mower can be done at home, saving you money.
Look under the Craftsman lawn mower for any leakage, whether it be oil or gas. If any oil or gas is leaking from the motor housing, then it is a motor problem, which will require dismantling the motor and finding the leaking valve, cylinder or piece.
Inspect the oil drain line if your craftsman lawn mower has one. It could be a leak in the line. If it is, replace the line.
Locate the air filter, which is usually on the right side of a Craftsman mower. Unscrew it with a Phillips screwdriver and pull the filter out. If it is dirty or clogged, replace it with a new one recommended in the owner's manual. If it is clean, put the filter back in.
Check the spark plug, which is on the opposite side of the motor from the filter. Look at the plug's tip. If the plug ii in anyway dirty, it could stop the mower from turning on or keeping power. Replace the spark plug with a new one.
Lift the mower deck up. Be careful as the blade is sharp. Check the arbor where the blade is connected to the deck. Make sure there is nothing blocking it, as it can stop the mower from turning on. If there is anything blocking it, clean it as best you can.
Check the key start battery if you have a Sears Craftsman lawn mower. Make sure the wires are connected. If they are, and it is not starting, it could possibly be the battery. Pull the pull cord and see if the mower starts. If it starts that way, then the key start battery is the problem, and it either needs recharging or replacing.
Things You Will Need
Owner manual

Phillips screwdriver

New spark plug

New oil line

New air filter
Tip
Check the owner's manual for correct parts. Just because it is a Craftsman, it does not mean that all Craftsman parts will work on the lawn mower.
Warning
Look out for any sharp objects around the motor. Lawn mowers can be dangerous, so be careful.
References
Resources