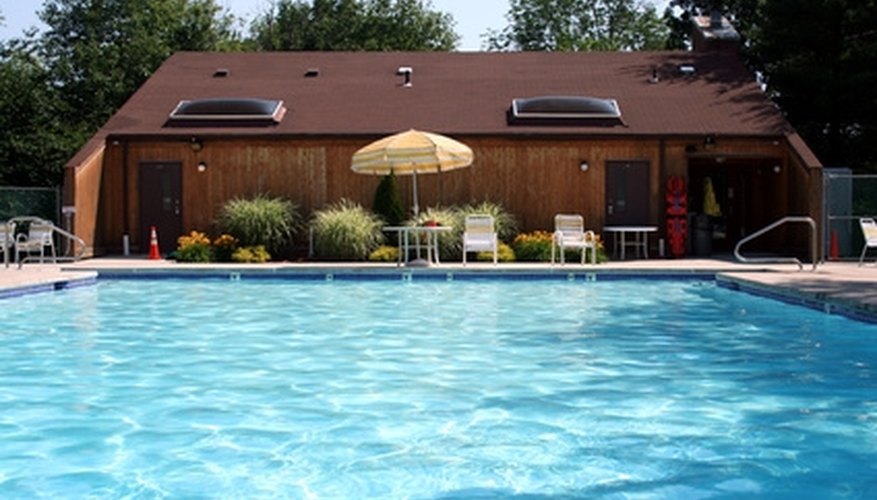 A wet deck is defined as a shallow portion of the pool where people can wade or sit on deck furniture with their feet in the water. Rather than a portion of a deck, the wet deck is actually part of the pool. Pool water over the wet deck is often ankle deep, allowing a cooling and relaxing effect without entering the pool. Wet decks are usually included in new or refurbished pool constructions.
Excavate the area for the wet deck. Remove surface materials to a depth approximately 8 inches below the pool's water level. This allows for 4 inches of deck or pool floor material and 4 inches of water.
Pave the surface of the wet deck. Concrete is commonly used to provide a waterproof backing to the floor of the wet deck. Cover the concrete with any decorative tile work or other finishing surface you desire. Because the concrete surface serves as the waterproof barrier between the wet deck and the ground grouting is not required between tiles but may still be done for aesthetic purposes.
Construct the walls of the wet deck. Often these walls are poured at the same time the floor of the wet deck is poured. The reinforcing rods used on the floors should be bent and extend up into the walls of the wet deck to tie the two structures together. In some wet decks, the floor is sloped to a higher level than the water surface of the pool.
Fill the pool with water. The wet deck should have about 4 inches of water across the surface.