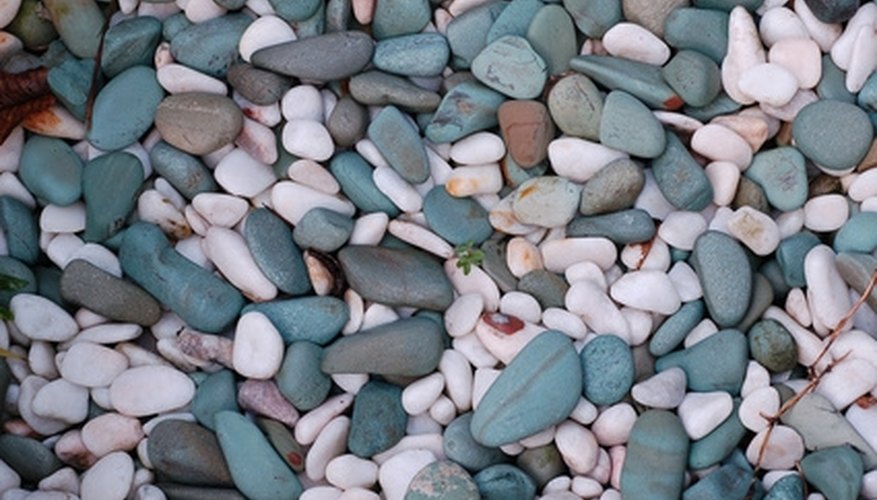 Concrete is a mixture of cement, water and an aggregate material. The most common aggregates used to make concrete are sand and gravel. In essence, all concrete is aggregate concrete. Special decorative aggregates frequently used for exposed aggregate concrete and include a variety of decorative stones in many different colors. The decorative material is used in place of the common, and less expensive, gravel. The concrete is poured and the the surface washed of the top layer of concrete to expose the decorative aggregate in the concrete.
Mix one part Portland cement, two parts sand and four parts decorative aggregate stone and mix in enough water to make the mixture the consistency of cookie dough. If the decorative aggregate is expensive, the concrete can be made with less expensive gravel and the decorative aggregate seeded on top of the concrete after it is poured.
Pour the concrete into the form, screed and smooth with a concrete float as with any other concrete application. If the aggregate is seeded, sprinkle the aggregate on top of the concrete as soon as it is level and use a concrete float to press the aggregate into the top of the concrete.
Spray an even coating of concrete surface retarder on the top of the concrete according to the manufacturer's directions.
Wash the top layer of concrete off the poured concrete when the concrete has set up enough that you can walk on the concrete without creating an impression. Wet the concrete with water from a hose and scrub off the top layer with the bristles of a stiff broom.