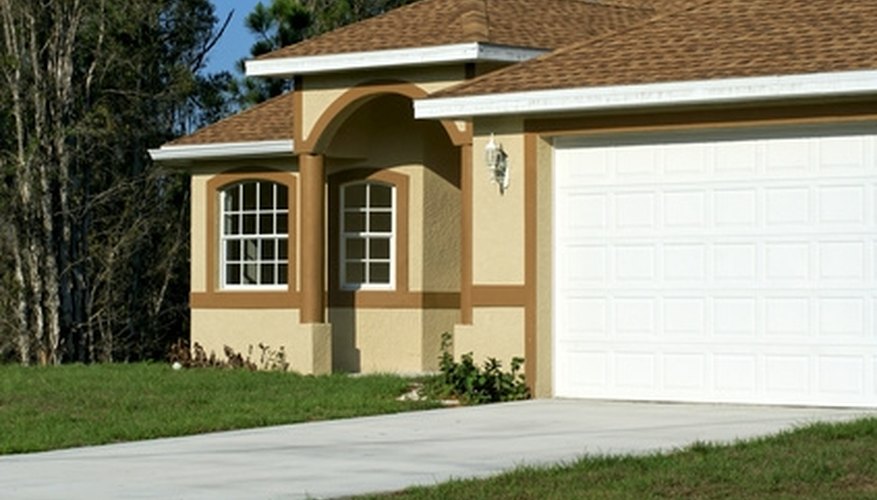 Repairing deteriorating expansion joints in your home's driveway will increase the driveway's life. "Expansion joints are placed in driveways in strategic places to help with the expansion and contraction of your concrete in the winter and summer months," says John DiDomenico of D & G Cement Co. in Dearborn Heights, Michigan. Expansion joints are typically 1/2- to 3/4-inch-wide and made of materials like fiber, fiber mixed with tar, rubber and vinyl. Without expansion joints, your concrete would crack. Over time, the materials in the expansion joints deteriorate, leaving a void in the concrete for water to enter. When this happens, the expansion joints need to be repaired to keep the concrete in good condition.
Clean out debris and the deteriorated expansion material from the expansion joint using a flat-head screwdriver. This will create an area for your backer rod.
Measure the space of the void between the two concrete slabs with your measuring tape.
Install backer rod into the void so that it is snug between the slabs of concrete.
Backer rods can be purchased from home improvement stores and come in a variety of sizes. Ensure the backer rod you buy is the correct size to fit snugly in the void.
Concrete caulk all the way across the top of the backer rod. The caulk will seal the void, preventing moisture and/or water from seeping into the joint, says DiDomenico, with D & G Cement Co.
Allow five to 10 minutes to see if any of the concrete caulk seeps through the joints, creating holes. If this happens, re-caulk the affected area(s).