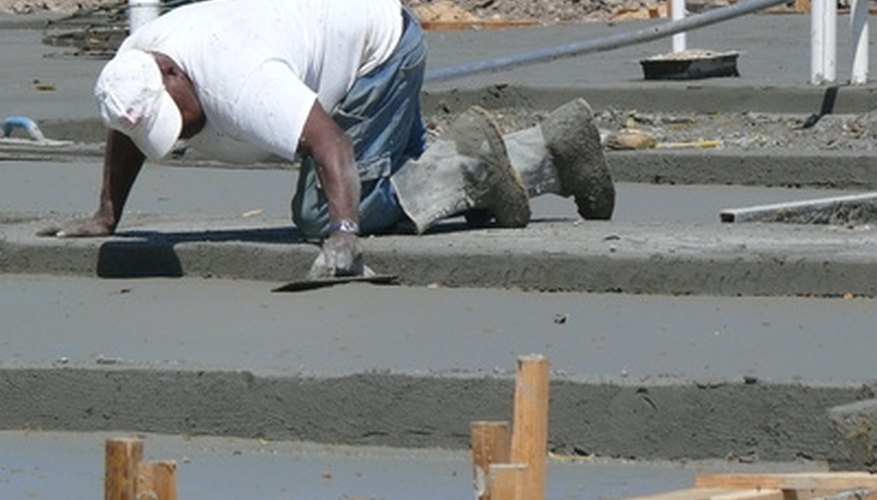 Provided the form has been built and the concrete has already been poured, finishing a concrete slab is a relatively simple process. The simplicity depends on the size of the slab and the specific finish desired. Large slabs require more people and quicker work due to the concrete becoming too dry to finish, and smaller areas require only one person and time isn't as pressing. Common slabs are only finished with a screed and a metal float, but fine finishes may take longer and require more tools and more experience.
Floating the Slab
Use the metal trowel in a sweeping motion to smooth the surface of the slab, keeping the forward portion of the trowel off the concrete.
Repeat process in small areas until the surface is free of ridges, peaks and holes.
Float the entire slab in the same manner, checking the entire surface for a consistent texture and finish.
Edging the Slab
Use the edging trowel along all edges of the slab in a short, one-direction sliding motion, keeping the forward edge of the trowel off the cement.
Bring the edge to a fine finish that is free from any blemishes to prevent cracking or chipping.
Use the flat metal trowel to remove the ridge created by the edging trowel.
Brooming the Slab
With a single-direction motion, drag the broom along the concrete from end to end.
Let the weight of the broom create the texture. Do not force the broom into the concrete.
Add a small amount of water to the slab if the broom's weight will not create texture.
Repeat the process of single-motion dragging on the entire slab to create a stable, finished texture.
Let the slab cure for 24 to 48 hours before walking or driving on the slab.