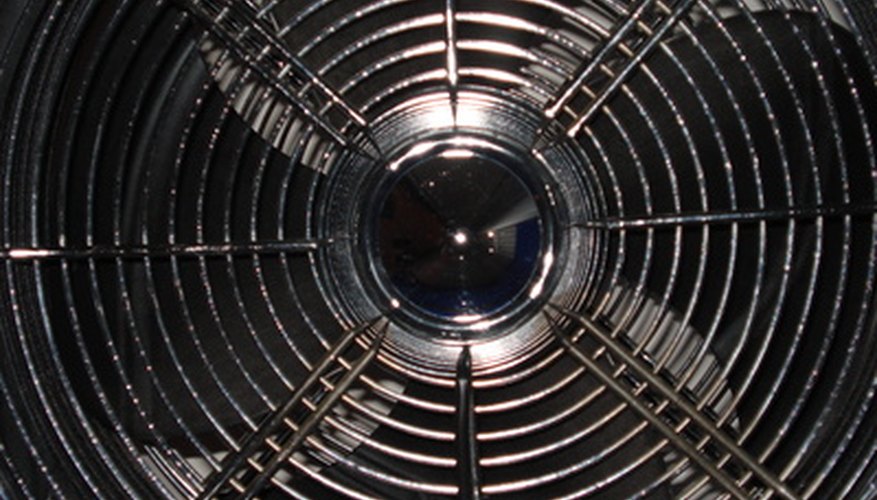 Grow rooms are closed, interior areas (such as in a garage, attic, basement) where vegetation is grown under high-intensity lights, which simulate the light spectrum of the sun. It's important to cool grow rooms because overheating (temperatures in excess of 85 degrees F) can create a stressful environment for the plants, promoting insect breeding while reducing plant yield and quality.
Step 1
Circulate air. Constant, moving air helps cool the temperatures of the plants, decrease humidity, circulate co2 and help reduce the risk of fungus on the plants. Place a fan (such as an oscillating fan) in a position so air circulates throughout all the plants (depending on the size of the room, you may need several fans). Keep the air circulating at all times.
Step 2
Provide an intake of fresh, cool air. Because most grow rooms are enclosed or sealed environments, it's important to introduce fresh air into the area at an intake point (such as a door or window) whenever the temperature reaches 85 degrees F. Open this intake point, and leave it clear of obstructions (for example, if you open a window, don't place anything on the sill--you want to allow for maximum air flow). If the air coming in is too warm, cool it with an air conditioner (for example, if incoming air comes from another room, place an air-conditioner within that room).
Step 3
Vent the air. As you're moving fresh air into the grow room (Step 2), you also want to move (or vent) the warmer air outside of the grow room. You can do this through a passive exhaust (meaning, no apparatus) where rising warm air exits through a filtered hole in the wall to the outside (or into another room), or you can place an exhaust blower at or near this filtered hole to push the air outside. For efficiency, you can schedule an exhaust blower to turn on when the temperature gets too high through a plug-in thermostat with an outlet for the blower.
Step 4
Install air-conditioning. To simplify cooling a grow room, install an air-conditioner that maintains a consistently cool temperature (around 75 degrees F), which means less hands-on adjustments for providing fresh intake air and exhausting warm air (Steps 2, 3). Rule of thumb is to have 4,500 BTUs for every 1,000 watts of high-intensity lighting.