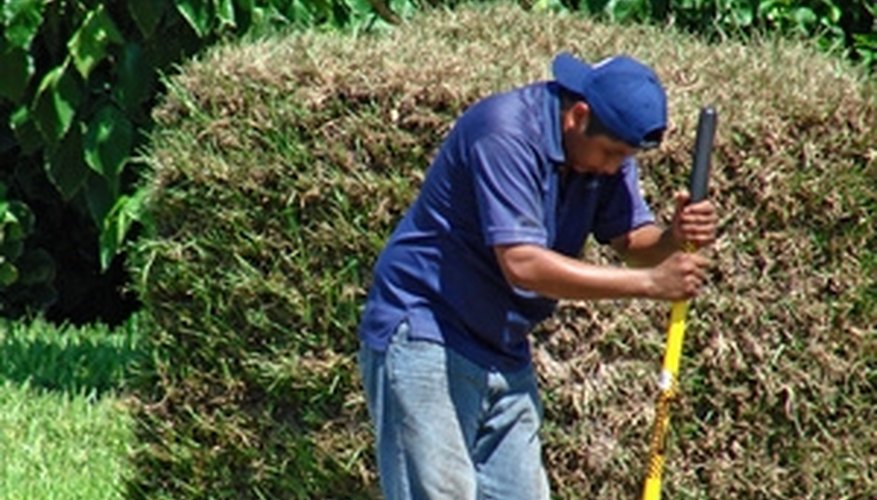 Although many types of landscape edging are available to define planting beds and keep lawn grass in its place, metal edging is an excellent choice. Unlike plastic, which deteriorates over time and is often unattractive, and formed concrete, which requires professional installation, metal edging is long lasting and blends well into the landscape. Installation of metal landscaping is also well within the skill range of most do-it-yourselfers.
Define the area where edging is to be installed. A water hose can be used to mark curved beds or boards can mark beds with straight lines. Carefully measure the length to determine how much edging is needed. Most metal landscape edging is sold in 10-foot lengths.
Purchase the metal landscape edging and stakes. Be aware that steel edging, if it isn't galvanized, will rust. This may be a poor choice for wet climates. Aluminum edging comes in various colors and is also easier to bend around curves.
Use a shovel to cut a trench along the area you previously marked. The trench should be 5 or 6 inches deep.
Place the upright edging in the trench, carefully bending it to follow curves if necessary. The stake pockets should be on the inside of the edging, opposite the lawn. If the edging is too long, cut it to length with a hacksaw. Join edging pieces by overlapping stake pockets and inserting a stake.
Place the stakes in the stake pockets and drive them into the ground with a heavy hammer until they are even with the edging top. If necessary, pack any loose soil into the edging trench.