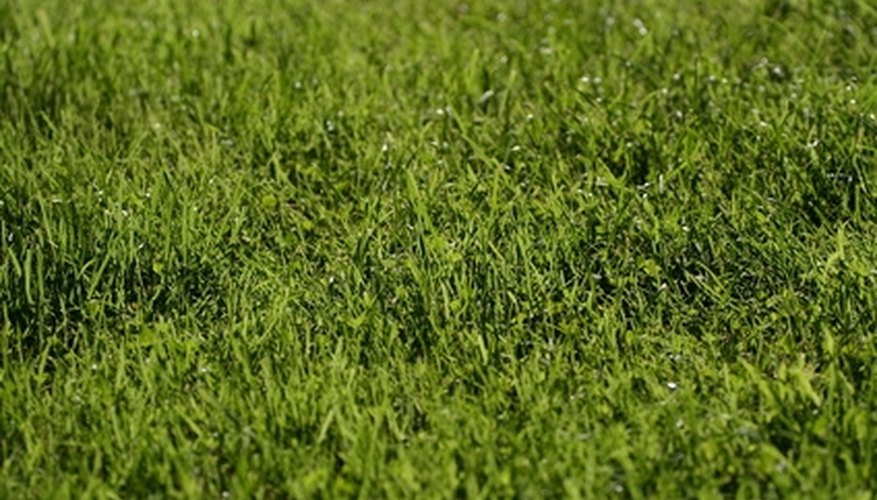 Whether you have artificial turf or real grass constitutes your turf, dog urine will have a detrimental effect on the look and smell of your lawn. Removing urine from natural grass is not possible due to the absorbing nature of the soil below the turf, but you can remove the smell using a product available at your local home and garden supply store. You can remove dog urine on natural turf more completely if you follow some simple instructions.
Removing Urine from Natural Turf
Take a soil sample to your local county extension office, and ask them to perform a test to determine the amount of lime you should use on your lawn. The lime will neutralize the odors from urine, but adding too much can have a detrimental effect on your grass.
Put on a facemask to protect your lungs from the lime powder once you have obtained the proper measurements and are ready to begin the liming process.
Fill a lawn spreader with lime. Set the dial to the dispensation amount given to you at the extension office.
Treat the area affected by dog urine only to neutralize odors, or treat the entire lawn to neutralize acidity and improve lawn growth if desired.
Removing Urine from Artificial Turf
Locate the area that is affected by the dog urine.
Mix a few drops of liquid dish detergent into a gallon of water in the bucket.
Pour the mixture directly onto the turf. If desired, use a "green" cleaner that is safe for pets rather than the dish detergent. Allow the detergent to sit on the surface for at least five minutes.
Rinse the area clean using the hose with nozzle attachment set on the "spray" setting.
Things You Will Need
Facemask

Lime powder

Lawn spreader

Hose

Nozzle attachment

Bucket

Mild dish soap

Water
Warnings
Do not apply lime to your turf on hot days, as it can burn your grass.

Do not use a cleaner that contains bleach or alcohol on your artificial turf.