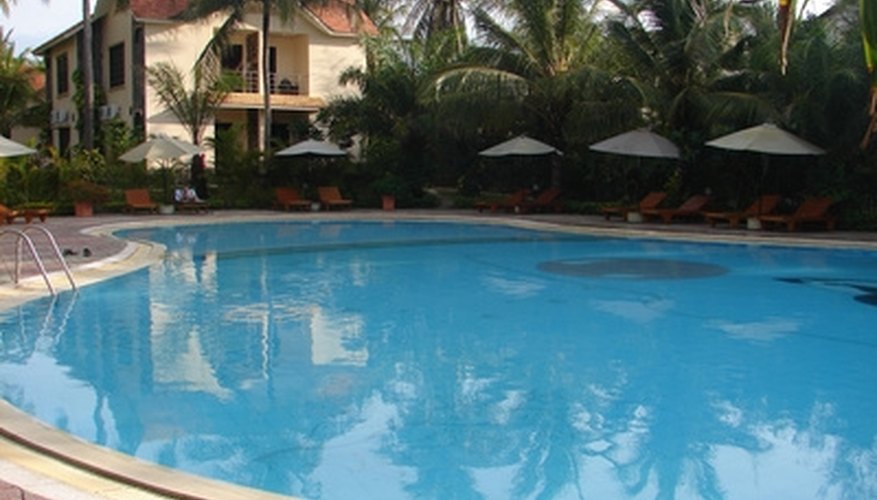 Nasty microorganisms can put more than a damper on the refreshing pleasure of your backyard swimming pool after a hard day's work. They can make you sick. According to the American Chemistry Council, the health risks that these microorganisms can cause range from ear infections to Legionnaires disease. The Centers for Disease Control and Prevention says that the incidence of recreational water illnesses has increased during the past 20 years. But, swimmers can protect themselves by simply knowing that their swimming pool contains the correct amount of chlorine to kill the germs.
Read the directions on the test kit.
Remove the cap from the test tube, and rinse it before use to clear it of contaminants.
At the deepest section of the pool, kneel on the deck and hold the test tube upside down (mouth to the water, bottom to the sky). Extend your arm as far as you can comfortably reach, and then plunge it down as far as you can, preferably 18 inches or so. Turn the test tube so that the mouth is facing upward and the tube fills with water.
Carry the filled test tube out of the pool, and adjust its water level to the fill line by spilling out drops.
Unscrew the cap of the OTO test solution, and squeeze the recommended number of drops into the test tube.
Replace the caps of both the test solution and the test tube.
Agitate the test tube gently to mix the water and the solution.
Compare the color of the mixed solution with the colors on the test kit. If the color is lighter than the light color level "1," add chlorine to the pool. If the color is darker than level "3," don't add chlorine. If it is quite a bit darker, the pool may not be safe to swim in as eye or skin irritation may occur.
Dispose of the test water somewhere other than in the pool.