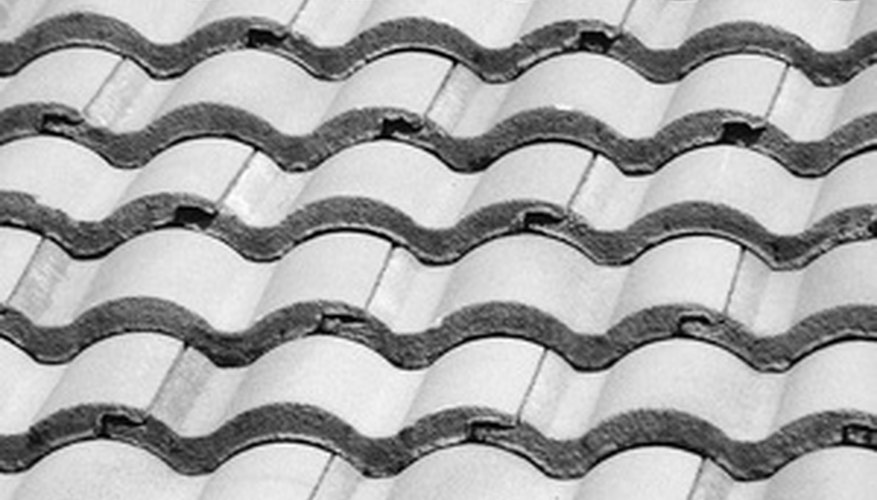 Concrete tile is a popular choice when it comes to roofing because, unlike wooden shakes and shingles, it isn't susceptible to damage from mildew, fungus, and mold. While these surfaces can often last the lifetime of the home, they can begin to look old and tarnished over time. A fresh coat of paint can restore the beauty of a concrete tile roof. However, before you apply a coat, you'll need to take specific measures to encourage paint adhesion. If you plan to paint a Monier concrete tile roof, you need to know the important prep steps that help to contribute to a long lasting finish.
Access the concrete tile roof using an extension ladder. Follow the safety directions printed on the labels located on the side of the ladder to avoid injury due to fall.
Wash away dust, leaves, and other debris from the Monier concrete roof using a pressure washer. Begin at the edge of the roof and work backward toward the ladder to avoid backtracking over the slippery, wet surface.
Brush on the exterior acrylic primer using a latex paintbrush. Begin at the edge and work backward toward the ladder as you did in Step 2.
Clean the brush using warm water.
Allow the roof to dry for at least two full hours. Brush on exterior acrylic paint in the same manner as you did the acrylic primer.
Things You Will Need
Extension ladder

Pressure washer

Exterior acrylic primer

Exterior acrylic paint

3- to 4-inch latex paintbrush
Warning
Rain and lightning can pose serious risks when working on the roof. Monitor weather conditions closely and only work on clear, warm days.